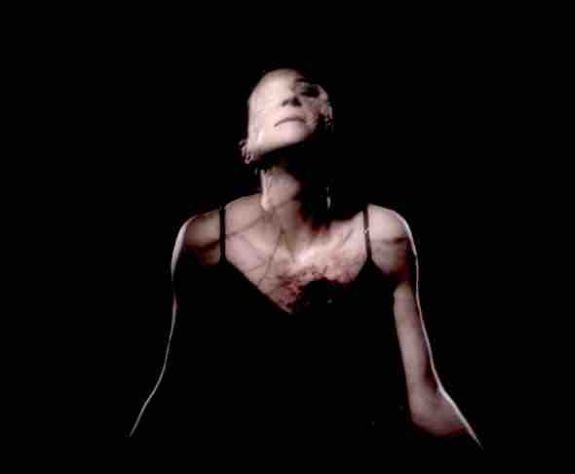 1 November 2016
Rachel Mason; "Heart Explodes" video still
As Rachel Mason gears up to release her new Das Ram album via Cleopatra Records and L.A. artist collective Practical Records, she is doing all kinds of great and funky stuff in her habitual mixed medium approach – a bit of sculpture, a bit of film direction, and a lot of performance art and music.
We take advantage of the latter three components today in presenting you the premiere of "'Heart Explodes", the second single from her forthcoming LP.
Known as an active contributor to the NYC arts scene for the past decade and recently relocated to her hometown of Los Angeles, Rachel still has a foot in both worlds, having arranged debut screenings her previous video for "Tigers in the Dark" in Los Angeles and for her new single "Heart Explodes" within the same week, the latter occurring at a screening of new video works by women artists at Red Bull Studios NYC.
"Heart Explodes" reveals the tip of the iceberg of the wonderful sounds emanating from her new album. In these lyrics, Mason explores an expression of freedom in allowing oneself to destroy one's old identity, thereby unearthing a new paradigm that allows one to dream again and realize one's dreams. The song begins "I made a box / just for dreams / to set ablaze and fly into." and then leaps finally and triumphantly into the end chorus, "My heart explodes with too much love / and this love explodes with too much light."
"Women are often offered a set of limitations from an early age, and these restrictions determine so much of one's destiny. Yet, there can be great things that arise from limitation, but controlling one's own set of rules, one's own box, one's own destiny is the key. This is the message of liberation for female identified individuals," explains Rachel Mason.
Mason wrote and directed the song's video with Aksel Stasny, the same cinematographer who shot Mason's latest feature film The Lives of Hamilton Fish. The character in the video references Édith Piaf, singing an art song in the blinding light of a single spotlight. The character morphs and eventually corrodes until she is splayed out and dissolves in a pile of flesh as her heart literally explodes.
The release of "Heart Explodes" is very timely considering some rather abhorrent comments from a U.S. presidential candidate about his sexual (mis)treatment of women, brought to light over the past few weeks, since this song relates to women's position in society and a confining set of limitations placed on them from an early age, ultimately shaping their destiny.
"It is somewhat perverse to me that this song is being released right at the moment when the endgame of a tortured presidential election is upon us in America," reveals Rachel Mason. "A potential landmark celebration of womens' achievement is overshadowed by the relentless ugly subject of female exploitation and sexual assault. I'm devastated about this, and it is truly uncanny to release a song that captures exactly how I feel about all of it. My heart feels as though it is exploding."
If you are in the Los Angeles area, treat yourself to Rachel Mason's multi-artform universe – throughout this month and into December, catch her interactive workshop performances during her residency at the Hammer Museum (In Real Life: Studio 4-6pm). On November 13, Practical Records hosts the limited edition cassette release of Das Ram at Human Resources Gallery, followed by the CD release party for Cleopatra Records on November 27 at Los Angeles' Bootleg Theater (2220 Beverly Blvd). Rachel Mason and The Starseeds, will be supported by LA bands Egrets on Ergot and L.A. Drones.
Pre-Order Das Ram at Bandcamp
Official Site
Facebook
SoundCloud
YouTube
Twitter
Instagram