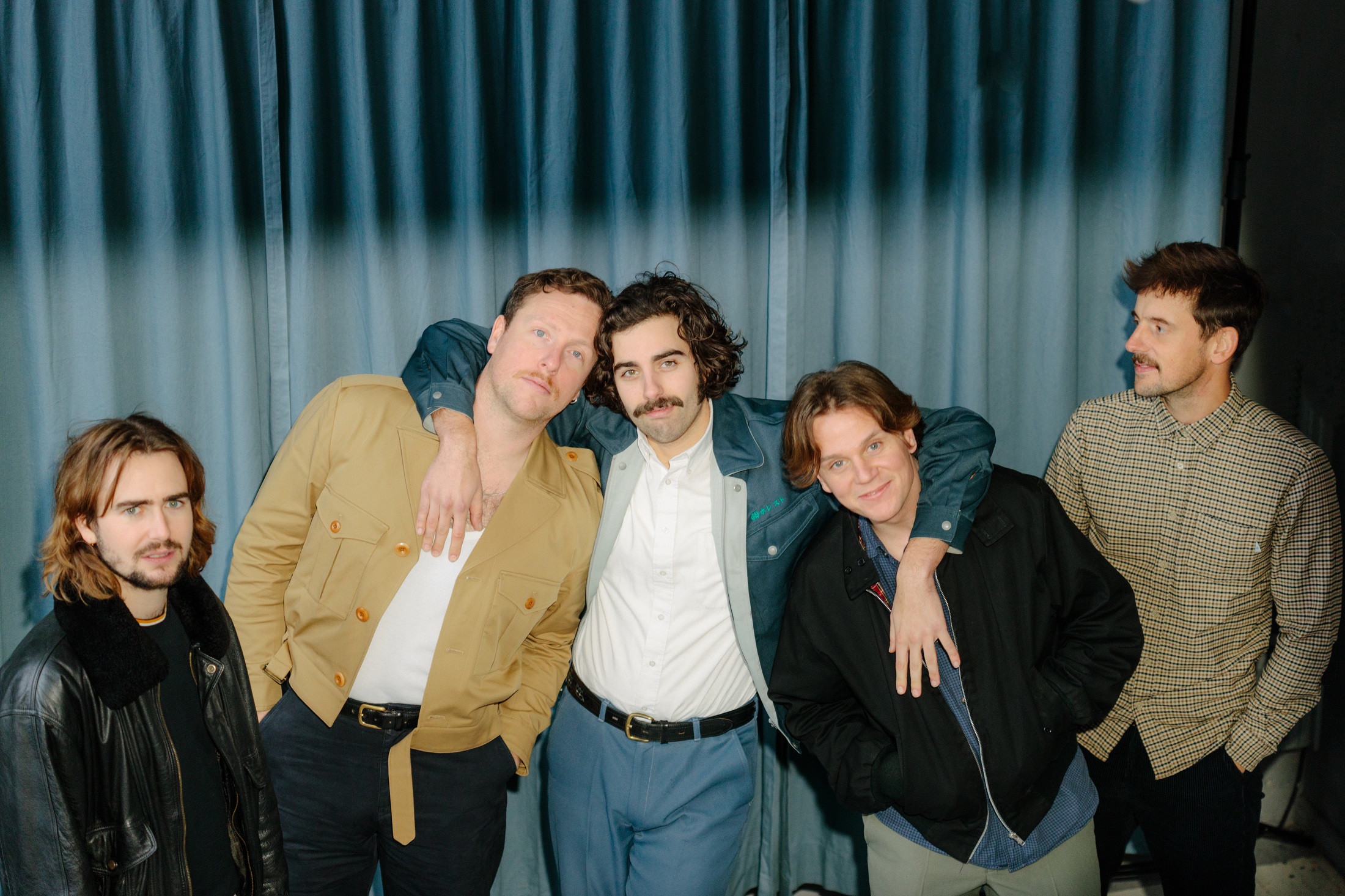 12 May 2023
Photo Credit: Tom van Vuisstede
One of Europe's most exciting musical exports, Dutch psych-rock band Iguana Death Cult, are finally sharing their brand new LP Echo Palace this Friday May 12, after much anticipation created by preceding singles "Sensory Overload," "Pushermen," and "Oh No," each praised for their guitar-forward, raucous energy and jagged post-punk musicality. Today, the band places special emphasis on the record's focus track, "I Just Want A House," described as "a funky millennial nihilist anthem." As the instruments swirl and trade solos, you can practically hear the growth of a group that's been pushing itself further and further with every tour and every Belgian-stove fuelled jam session.
On the track, the band wrote:
"O the trouble we've found ourselves in! Young people are struggling to find a decent place to live, summers have gotten so hot that vast areas of land are turning into scorched earth, not only is there a patch of plastic in the ocean the size of Texas, apparently we swallow a credit card's worths of microplastic per person every week. Human greed has pushed us to the limits of existence. But since we wrote this groovy dancing song about it, we're probably not even close to being scared enough."
In all, Echo Palace may be the Iguana Death Cult music that's most overtly about the strange cause and effect of groupthink, but the theme has been lurking there since the very beginning, when the band was first formed by childhood friends Reek and Opschoor over ten years ago. When it came time to record the full set, the band headed to PAF Studio in Rotterdam, and then had the self-produced album subsequently mixed by Joo-Joo Ashworth (Sasami, Dummy) at Studio 22 in Los Angeles and mastered by Dave Cooley (Tame Impala, Yves Tumor). The album is a big swing, stretching Iguana Death Cult beyond its garage rock origins and taking them to a new realm. It's the type of project that warranted having legendary Dutch saxophonist Benjamin Herman stop by to add to the squall on tracks like "Oh No" and "Sensory Overload," heady thrashers that morph into calculated freakouts; that warranted Reek and Opschoor knowing when screaming their guts out on tracks like "Pushermen," and Boer and van Opstal knowing when to bring the rhythm section to a jazzy simmer on tracks like "Paper Straws."
The end result of Echo Palace is an appropriately worldly album from a group breaking past the confines of its home country. That's not to say that Iguana Death Cult aren't proudly Dutch; the group takes from the trademark hard work ethic of their Rotterdam base and applies it to their approach with music. But it's 2022, and we're less defined by our borders than ever before. "When we play in other countries, for me that gives the same amount of pleasure — or even more — than when we play in the Netherlands," says Opschoor.
"We're not just little countries anymore, everything is global," adds Reek, speaking about society at large — but he might as well be speaking about Iguana Death Cult itself. "We're turning into a global thing."
In celebration of their new album, Iguana Death Cult recently made an appearance at this year's SXSW (Austin, TX), where they played a total of nine showcases. Following the festival, Paste Magazine noted that the band was one of the "20 Best Acts" they saw there: "I knew I had to see Iguana Death Cult as soon as I heard the band's name. And they didn't disappoint. From the word 'go,' the whole crowd was dancing and pushing to their garage and psych-rock extravaganza."
Iguana Death Cult's brand new album, Echo Palace, is out tomorrow via Innovative Leisure.