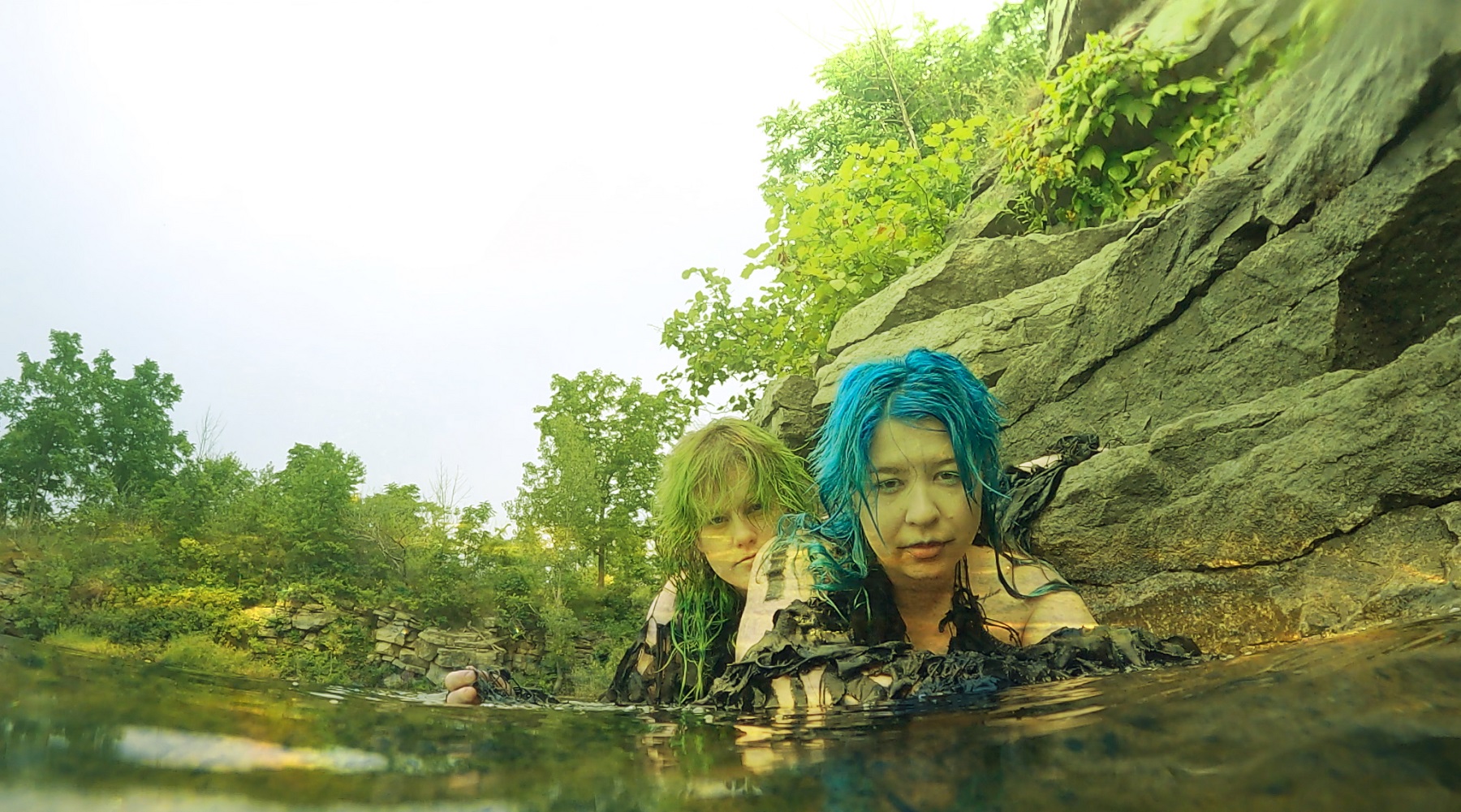 2 August 2023
Photo Credit: Adam Stewart
Kali Horse is the post-psychedelic swamp-rock collaboration between multi-instrumentalists and producers Sam Maloney and Desiree Das Gupta from Toronto, ON. Their world is an immersive one… "an experience. One that should be repeated and shared often."
Today Kali Horse are sweating out a "Long Fever" with their newest single which unveils the news of their debut album Some Type of Electric Lagoon to be released September 15, 2023. The album is a lush and vibrant journey that mirrors the depths of self-transformation one can experience when attempting to take control of murky mental circumstances. Upon a devastating split from former bandmates, a newness was embodied by Maloney and Das Gupta, as they explored their innermost softness and outermost heaviness. Their self-captured foley samples envelope a full-band sound, with orchestral and other instruments that create a trip so psychedelic you can't help but to truly understand what they mean when they utter "Why me?"
Sam and Des sat in Sam's college closet with a Western-facing window 10 years ago, listening to "The Wall" and "The Bends" and knew a rocking 90s sound could be as lush as they dreamed. This scheme has taken many forms, with a finality in the Electric Lagoon. From the Conan Mockasin-inspired "Long Fever", to first single "In The Water" and its Björk-like mystery, Kali Horse has no intentions of pigeon-holing themselves. They have one rule – "feels good".
The album features guest players from the Toronto music community, including Luna Li (violin, harp), Dylan Gamble from Hot Garbage (stand-up bass) and Patrick Lefler aka ROY (organ).
The release of their prior 3 singles is connected underwater by "Long Fever"'s tight harmonic malaise, with a surprising comic relief that hasn't been featured before. The tension and release here is meant to ask, "how long can you go before the fever breaks?"
As for its' video, the lagoon is revealed in its brilliance, a shimmering and bubbling garden where beings cast their nets with ease and shapeshift within the murkiness, only to be freed to glide in the clarity. Swirling in the hypnotic and other-worldly Creature Garments' handmade and visually manifested by Cassandra Morgan, the characters were filmed over a year in 3 different bodies of water by Adam Stewart, the band's longtime visual collaborator. Topped off with Sam and Des camcorder footage shot by each other, a bareness so intimate that could've only been made by those with such a long time connection.
Like the experimental guitar-driven 60s psych rock that came before them, the song takes a groovin' left turn entering borderline delusion. It's the perfect example of how Kali Horse takes 2 different songs and asks them to be one. From a whisper to a wail, Long Fever is about losing your f****** mind. Wade into Kali Horse's psychedelic world – you are a creature too.
links
listen
instagram
bandcamp