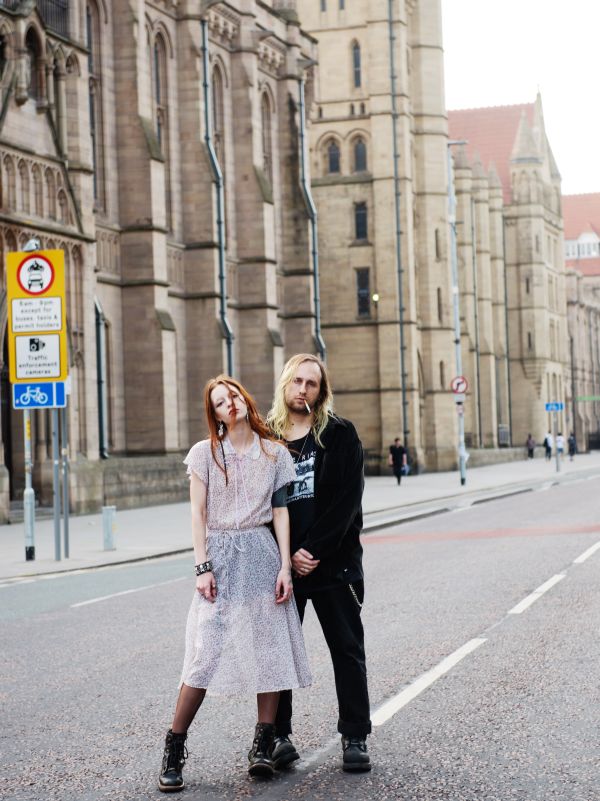 25 July 2018
White Ring – Photo courtesy of White Ring
New York cult underground act White Ring arrived on the music scene in 2009 with a unique spin on the witch house sub-genre. Founders Bryan Kurkimilis and Kendra Malia released their debut EP, Black Earth That Made Me, in 2010 (and its reissue in 2011) to great acclaim, but then suddenly disappeared from view for eight long years.
The wait for new music from White Ring is about the end with the release of the duo's first album, Gate of Grief, on July 27th via UK record label Rocket Girl and the usual download platforms.
Much has changed since eight years ago; Bryan and Kendra faced various struggles in their lives that shaped the aptly titled Gate of Grief. They commenced the record's creation in 2010, but personal challenges that slowed down their progress, including Kendra battling illness in 2016. Adina Viarengo became a member of the band that year and ended up finishing Gate of Grief with Bryan.
The resulting LP balances tragedy with a sense of hope and explores new musical territories that have expanded White Ring's sound. As Bryan explains, "We treat our influences like tools to create a certain feeling. We are interested in covering more ground than sticking to a certain formula." Adina's vocals are remarkably similar to Kendra's and help to keep the same vocal flow throughout the album.
The Big Takeover is excited to premiere the video for, "Nothing", an ominously hypnotic track off Gate of Grief. The entrancing tune is churns thickly with mechanized beats, bright, laser-like electronic reverberations, a dark, buzzing undercurrent, and anxious, fluttering to whispered female vocal exclamations.
The video features Bryan and Adina doing relaxing things (a total 180 from the chilling, tense, and mysterious White Ring sound!), like biking around at night, splashing in the sea with a pet dog, and hiding out in a tangle of jungle-like vegetation. The video footage unspools like a vacay promo that shows how to get away from the traffic, noise, and hustle 'n' bustle of the NYC (or any city) experience.
Pre-Order Gate of Grief at Rocket Girl
and at iTunes, Amazon, and Google Play at this link
Faceobook
Instagram
SoundCloud
YouTube