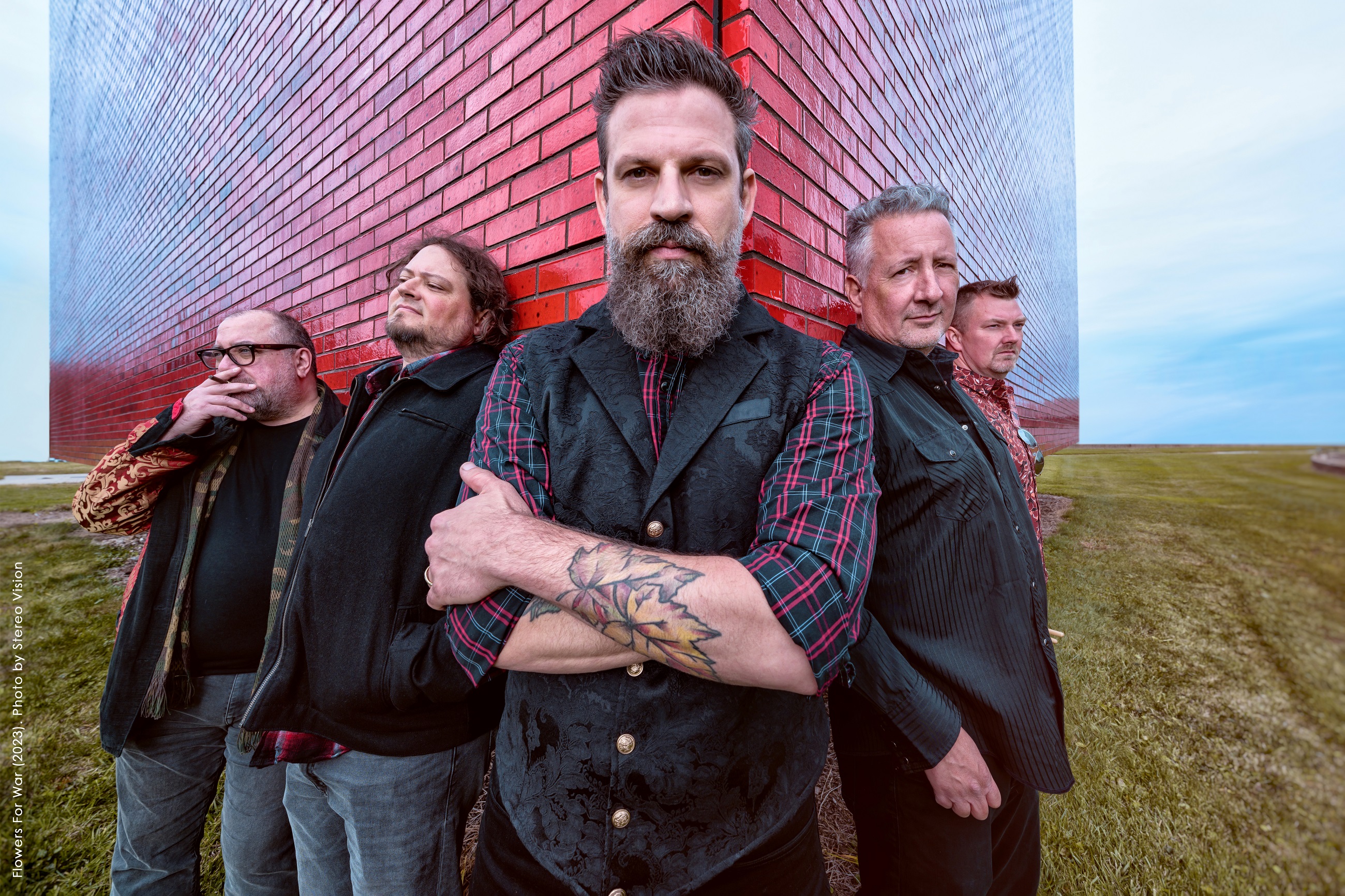 8 February 2023
Photo Credit: Stereo Vision Photography
Three former members of The Mayan Factor, guitarist Brian Scott, bassist Kevin Baker and drummer Matthew Toronto join together with (Damn) This Desert Air vocalist Craig Cirinelli and Telesma guitarist Chris Mandra (on keys/auxiliary) to form a new band spanning three states called Flowers For War.
The five band members of Flowers For War began collaborating during mid-2021, initially as a one-off single idea. Craig Cirinelli explains, "Two of my past bands gigged sporadically with The Mayan Factor over the years. We began inviting one another to our regions (Maryland/New Jersey) after discovering one another within a music piece on long-standing news portal, ThePRP.com way back. I became great friends with Kevin and we'd generally keep in touch a few times per year, nonchalantly talking about the broader music landscape, while also things happening in our bands." This years strong bond lent itself to the idea tossed back and forth between them. "We should write some music together on the side someday," adds Kevin. "Each of us have juggled multiple bands, riding the ups and downs within bandhood, generally keeping busy by reinventing ourselves and band hopping. We were similar like that."
Enter Covid-19 and the stall of live music, where self-reflection/evaluation of wants and needs alongside the very drastic world surrounding them, added to the yearn to create by any means possible across the globe. Kevin reached out to Craig, asking if he'd consider joining the The Mayan Factor as their new singer, yet the conversation led deeper. "After completing the first demo song, we were taken back by the chemistry. The song was shown to our producer/engineer Frank Marchand who advocated us to 'do more!', Kevin stated. With one more piece to the puzzle added, reeling in Chris Mandra, a respected music friend from the Baltimore based band Telesma, it proved to be a pivotal point in developing a sound so soberingly pure from their other groups. From that point on and without questioning one another's instincts, songs developed with a personality very noticeable of sum of their parts. Consistent writing developed between the now 5-piece group and an entire batch of songs prevailed.
The soundscape lead them to don a new band together and Flowers For War was born. The pull was strong enough despite the mileage between Maryland, Delaware and New Jersey. Tracking both on their own remotely, as well as together at Waterford Digital Studio w/Frank Marchand at the helm (Bob Mould/The Obsessed/We Banjo 3), Flowers For War completed 7 album tracks, deep in mood, cinematic in nature, while also powerful and fervent. Their brand of 'album rock' can be poignant yet healing, a dreamscape leaning on dynamic substance over force.
• Flowers For War release "Old-Blooded", their debut video single across digital stations on February 10, 2023.
• Flowers For War's debut performance will be at The Recher (formerly Recher Theatre) in Towson, MD on February 18, 2023.
Website
YouTube
Instagram
Facebook