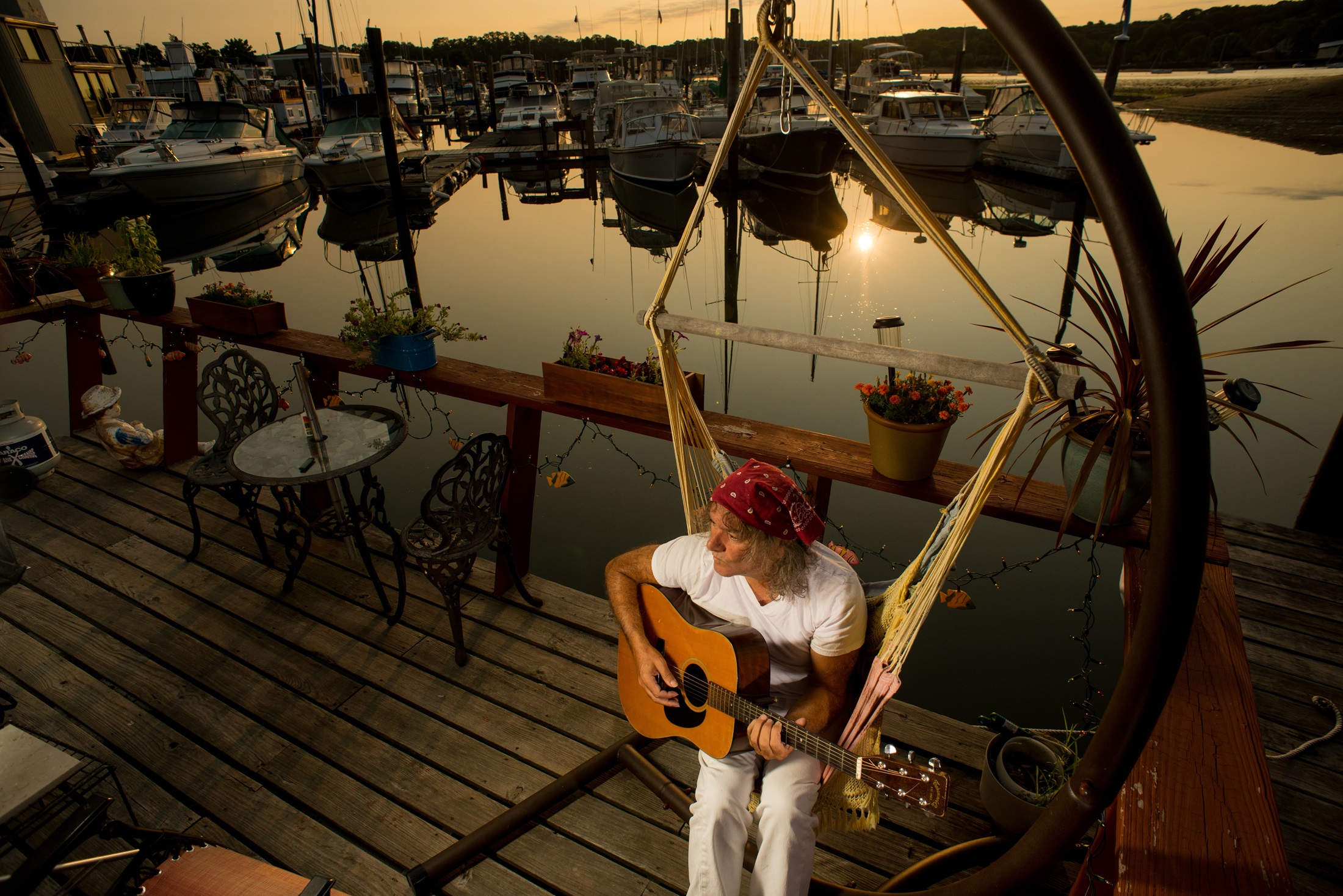 13 November 2023
Photo Credit: Ivan Singer
Spaghetti Eastern Music, the solo venture of genre-leaping NYC & Hudson Valley-based guitarist Sal Cataldi, has returned with two new singles that demonstrate the broad range of the musical territory he traverses – the stripped-down acoustic vocal ballad "Sweet Home Anywhere" and a tribal beat-driven, blues-inflected, electric guitar instrumental "Jungle Blue."
"Sweet Home Anywhere" is a delicate DADGAD-tuned ballad. It's indie-songcraft that highlights the artist's pristine acoustic guitar work, close vocal harmony and emotional lyricism. Narratively, it's a song that tells a troubled former lover that – although they are no longer together – his door is always open to her should she need him. The Big Takeover is exclusively premiering the video for the song – a romantic compilation of clips featuring one of classic cinema's most arresting romantic icons, Brigitte Bardot.
"Spaghetti Eastern Music is definitely a schizophonic project, one where I get to indulge the three very different genres of music that I most love," says Cataldi.
"Some of my work falls into instrumental jazz rock and psychedelic genre – sounds akin to players like Jeff Beck, Terje Rypdal, Steve Tibbets, Santana and Hendrix. Other works are in the experimental soundscape mode – a bit of Fripp & Eno meets Krautrock meets Sonic Youth. The last is the acoustic singer-songwriter style. It's something inspired by my love of artists like John Martyn, Nick Drake and, of course, Joni Mitchell. 'Sweet Home Anywhere' is the latest representative of the latter genre in my discography. It's a purposefully bare bones recording – a gentle song in a dreamy modal tuning about lost love with a ray of hope attached."
She has no time for love, she only has a taste for pain
She's sweet home anywhere, she's a dangerous game
When you lend your heart to a shadow, warm a hand inside a cold glove
She's sweet home anywhere…
Good night baby, you can come back again, if you need a friend
Well, she's pretty as a pistol, she runs on a monkey mind
She's sweet home anywhere, she's the dangerous kind
So roll out the red carpet boy, and hoist up the white flag
She's sweet home anywhere
Good night baby, you can come back again, if you need a friend
A growing number of critics have heaped praise on Cataldi's work since his 2016 debut album under the Spaghetti Eastern Music moniker, Sketches of Spam. This was a 16-track, 69-minute surf through a slew of contrasting moods which has been followed by a steady stream of singles and EPs. The New York Times writes "Cataldi's original instrumentals and acoustic vocal tunes have a beat unmistakably his own," while Time Out New York adds "the largely instrumental, Eastern-influenced jams are infused with some delicate guitar work and hauntingly moody atmosphere." Cataldi's Spaghetti Eastern has been called "beautiful and unique" by WFUV's Mixed Bag and "charmingly melodic and off-center" by WFMU. Huffington Post has applauded his "soaring, searing instrumentals" and "beautiful, quirky songs that have a darkness-in-light straight out of the Nick Drake bag." We at The Big Takeover called his most recent single, the heavy metal-inflected instrumental "A Scanner Darkly" released in January 2023, "deeply atmospheric, a fusion of dreamy washes of electronics, gutbucket beats and blistering guitar runs."
Spaghetti Eastern Music has released this acoustic ballad along with another single, "Jungle Blue." This track is a 360-departure from the above, an atmospheric electric instrumental driven by percussive cross-rhythms, waves of electronics, echoed pianos and Mellotron, a duo of sustained Ebow guitars and the guitarist's always melodic, blues-inflected guitar runs. Cataldi calls it a cinematic marriage of new beats and electronic sounds with melodies and improvisation that harkens to the British blues boom of the '60s.
Both new tracks are available as digital downloads via Spaghetti Eastern Music's Bandcamp site, and Spotify, iTunes, Amazon and other online shops/streaming services.
Cataldi also made more beautiful sounds with One Act Sonix, the critically-buzzed about 2020 debut album from his spoken word/music side project, The Vapor Vespers, with noted Alaskan playwright/slam poet Mark Muro. The duo recently followed this up with two new singles reviewed here, "Sex" and "You Changed," which will be included in a new, full-length album coming in December 2023, Ghosts Before Breakfast. Cataldi is also one half of the improvisational and ambient Hudson Valley-based guitar duo, Guitars A Go Go, with Rick Warren. Their first single, a 12-minute improv opus called "The Volcano Lovers," was a preview of the bold experimentation featured on their CD debut, "Travel Advisory." And since 2022, Cataldi has been a part of a popular Hudson Valley-based surf and psych rock quartet, spaceheater.