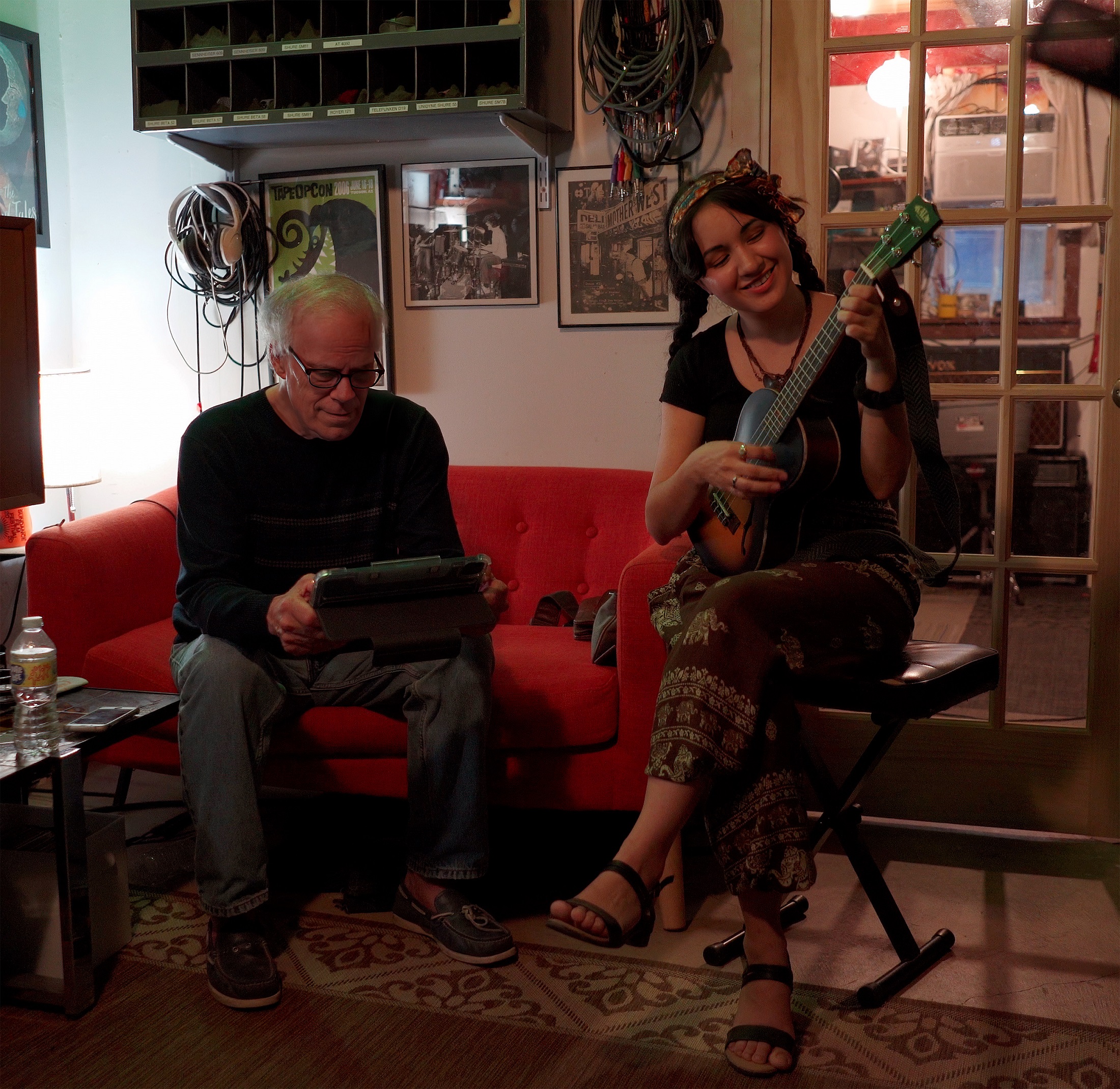 2 February 2023
Photo Credit: Xpander Productions
The newest album "My Huckleberry Friend" by Eva and The Vagabond Tales, released this past September on Mother West comes after a year of collaborations with The Vagabond Tales front woman Eva Mikhailovna and long-time producer Charles Newman (The Magnetic Fields, The Bones of J.R. Jones).
The two had worked bi-coastally on several releases over the past 6 years with Newman working out of his Brooklyn studio with occasional trips to LA, and Eva recording out her carriage house home studio in Riverside, CA. With Newman's move to LA in the summer of 2020 and the gradual post pandemic restart of life, the two decided to embark on recording a cover album made of up songs Eva had been playing on her online shows that had become fan favorites.
With the itch to move her band sound into a new place, the two embarked on shaping a collection of reimagined songs ranging from the chamber folk inspired version of the Johnny Mercer classic "Moon River" (which gives us the album title) and the lo-fi three part harmonized version of Radiohead's "Creep", to the ukulele laced duet with sixties folk legend Bob Cowsill doing a version of the Bee Gees "To Love Somebody".
Eva weighs in about Bob Cowsill:
"I've always loved vocal harmonies, so when deciding to do this song, I envisioned it as a duet. When we started recording, we couldn't figure out who would be the second voice. At around that time, I casually posted an Instagram story of me playing "The Rain, The Park, and Other Things," by the Cowsills. Someone replied to my story, letting me know that they actually work with Bob Cowsill of the Cowsills. He gave me Bob's email address and I sent Bob a message, letting him know that I'm such a fan of their songs and that I've been listening to them on cassette since I first came to the United States as a little kid.
I didn't think anything would come out of this message, and I just wanted to let him know that I appreciated their music, but Bob ended up surprising me with a reply! He even listened to the original music I sent him. A lot of what their group did inspires so much of my music, so to me, this email reply was huge.
We were still struggling to figure out who would sing this Bee Gees song with me, and during one of the session said "Why don't you just ask Bob to do it?" At first it seemed like wishful thinking, but when I asked him, he said yes!
A few months later, Bob visited the studio during his break from tour and recorded his part of the song. Everyone in the studio that night was just mesmerized when he started singing. His voice took us all back in time that night, and it felt like he took the song back in time too."
Over the course of 2021 working between Newman's Cottage Sounds studio in LA, Eva's home setup, and tracks being sent in from around the country, the album took shape with any array of guest musicians and vocalists contributing including Casey Abrams, Bob Cowsill and David Alexander from the pop punk band Carousel Kings. Guest musicians included, drummer Butch Norton (Lucinda Williams, Eels), bassist Ed Maxwell (Shelby Lynne, Meiko) as well as Simpsons animator David Silverman on tuba, violinist Claudia Chopek (Moby, Sia), and cellist Frank Bell, along with Vagabond Tales members Jasmine Capitulo adding accordion and Joe DeFiore on woodwinds.
During the session with Bob Cowsill, Eva's video collaborator Xpander Productions was hanging in the studio casually capturing footage which led to the music video he put together of the session.
As "My Huckleberry Friend" was being finished up during the summer of 2021, Eva got the call by Scott Bradlee's Postmodern Jukebox and was offered a month-long midwest tour. With the tour coming up and the mixes winding down, the record was pushed to the finish line and released on Sept 30th 2022.
Currently playing shows around the LA area with her jazz band The Pepper Moons and preparing for another PMJ summer tour around the US and across Canada, Eva continues to write new original material for The Vagabond Tales, with other projects in the works for release later in the year.
Mother West
Band Site
Facebook
Twitter
Instagram