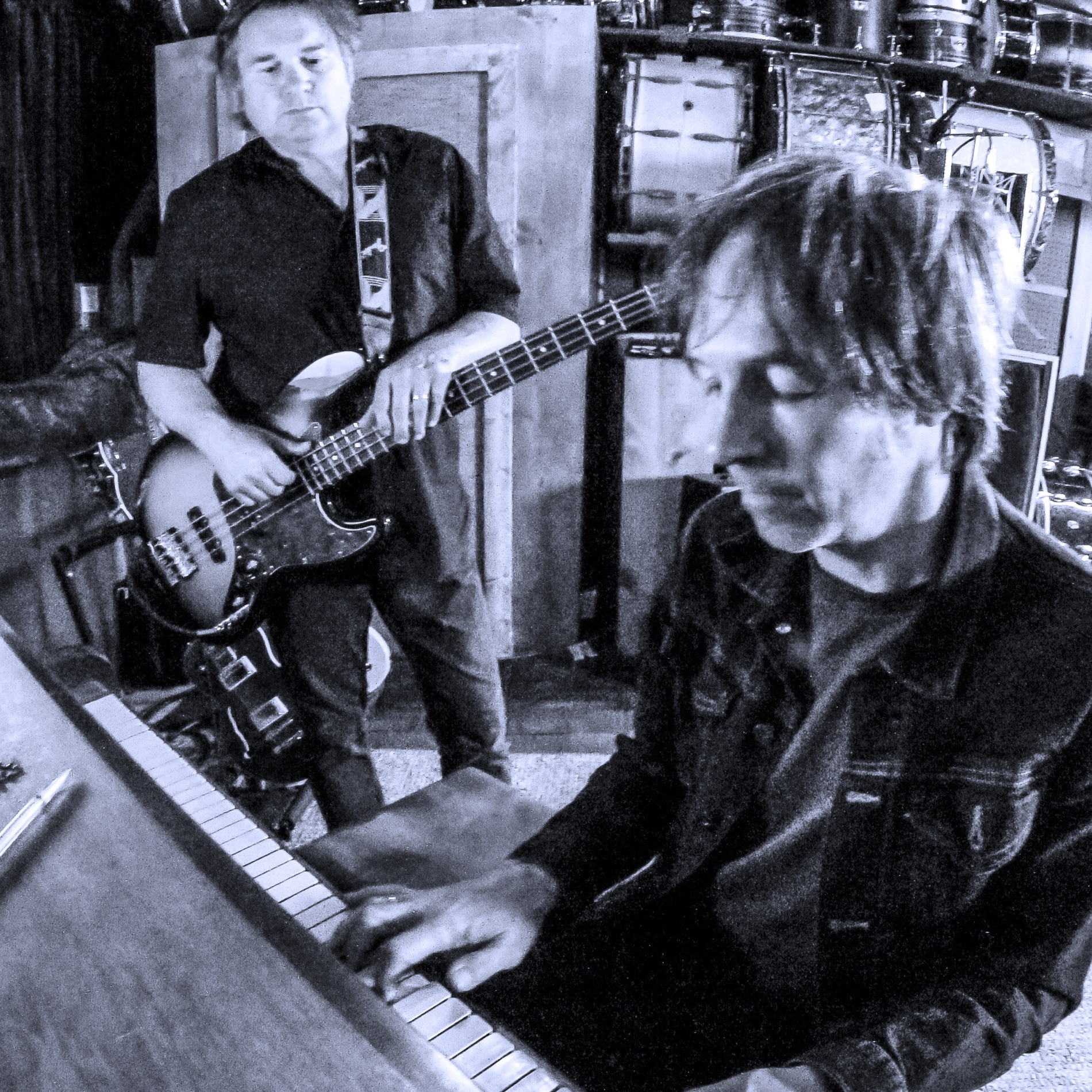 17 October 2023
Photo Credit: Teddy L. Snider
Paul Chastain is the songwriter and co-founder of Rock group Velvet Crush and has worked both live and in the studio with Matthew Sweet, Mitch Easter, Roger McGuinn, Susanna Hoffs, Tommy Keene, and more. Velvet Crush's Teenage Symphonies album was re-issued Spring 2023, it's first release on 12" LP vinyl in the U.S., marking its 30th anniversary.
John Richardson has recorded and performed with the likes of Joey Molland (Badfinger), Gin Blossoms, Jay Bennett (Wilco), Tommy Keene, and many others. Drilling down into their personal and musical histories reveals the roots of their collaboration as The Small Square in their early band days out of Champaign, Illinois.
A long association followed, and their collaboration even pre-dates their official release and touring as The Small Square. The development of Richardson's Drum Farm Studio has invited a collaborative space that sees Chastain traveling from his home in Japan to work with Richardson and contributing musicians for a week or more at a time and then continuing to hone and expand tracks from his home studio.
Chastain and Richardson share producing duties for The Small Square, particularly when working in different countries, with production playing a major role in the songwriting process and in finalizing songs. They hope to spend more time creating together in future, but worked with distance and the pandemic to carefully craft the songs on Ours & Others.
Paul Chastain, one half of The Small Square says this about the video and the song it's based on:
"Twenty-Third was one of the more straight-up collaborations on the record. It started as a short chord progression that John (Richardson) had come up with. When I came to his studio and he played it for me, I thought it was rife with possibilities. Right away I started in playing ideas to connect to his. We settled on something then arranged a song form and decided to quickly record the piano and use it for the basis of the song."
"Often, John enlists the help of an engineer to help out with our recordings. This day, the two of us were working alone. We devised a method where-by we would each play the part we made up, on the same take, on the studio's grand piano. So I hit the record button, John started playing his progression for the verses and choruses. When it came time for the bridge (my part) I replaced John on the piano bench. While he sustained his last chord, I started playing. We then switched back to finish the song out all on the same take without stopping the recording."
"The song was actually finished quite some time later after I got a suitable melody and lyrics together. Over time vocals, guitars and bass were added then it sat in that state for a bit because I still was not convinced. It sounded pretty cool but there was something missing. Then one day I had the of asking my friend John Moremen if he would try some guitar on the song. John had been playing with me recently in Matthew Sweet's band. He agreed and a few days later I received a file of his guitar part by email. When I popped it into the session and hit play, I heard what I had been missing. It instantly made the track work and it has become one of my favs on the record."
"The video was put together much later, long after the album's completion but inspired by the feel of the recording. I used footage and stills shot by photographer Teddy Snider at and around Drum Farm Studio in Wisconsin along with a few things which I shot on my phone at other locations. Lots of overlays and greenscreen bits for a hazy, warped kind of vibe."