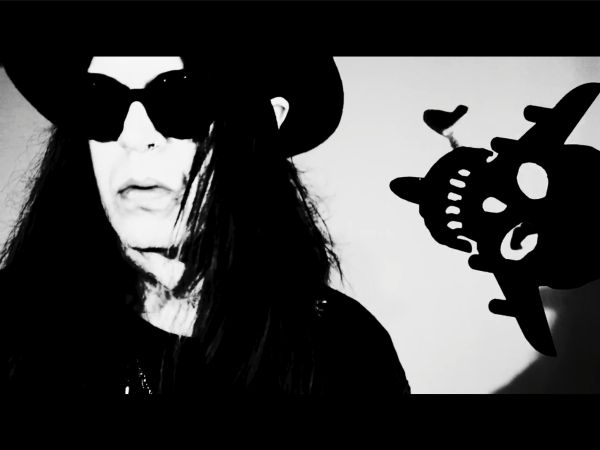 2 August 2018
Pete International Airport – Video Still Credit: Paul Dillon
The brainchild of Peter G. Holmström, neo-psychedelic rock band Pete International Airport's name is borrowed from a song title by Holmström's other band, The Dandy Warhols.
Pete International Airport most recent album, Safer With The Wolves, is a meticulously crafted psych rock journey into the dark heart of electronica. The album's 11 tracks feature guest singers from like-minded allies such as: The Black Angels, Daydream Machine, Black Rebel Motorcycle Club, Dark Horses, Hopewell, and more.
Holmström is now putting out a video for "Western Shouting", a track off the album that features Alex Maas from The Black Angels. It's a veritable indie rock all-star line-up with Maas having co-written the song with Holmström and also providing vocals and elektro baglama saz, Emil Nikolaisen (Serena Maneesh) on drums, Rishi Dhir (Elephant Stone) on sitar, and Anders Møller (Gluecifier) on congas.
The mesmerizing "Western Shouting" was mixed by Jeremy Sherrer (Modest Mouse, The Shins, The Dandy Warhols), who also was on MPC loops. The stark, but vivid black 'n' white video was directed by Paul Dillon (Mercury Rev, Sparklehorse) and he superimposed flashing and sliding graphics over brief shots of the band members performing for the camera.
Pete International Airport have previously shared the Paul Dillon-directed video for "Flowers Of Evil" featuring Robert Levon Been and have been on tour with Black Rebel Motorcycle Club in May.
Holmström relates, "This track started on acoustic like most of my songs. When I tried to record the riff with an electric guitar it sounded a bit too '90s nu-metal. Eventually I tried it on bass and the song came together. It had a dark sparseness that made me think that Alex Maas would be the perfect voice. He agreed and very quickly wrote and recorded a very timely lyric that fit with the theme of the record."