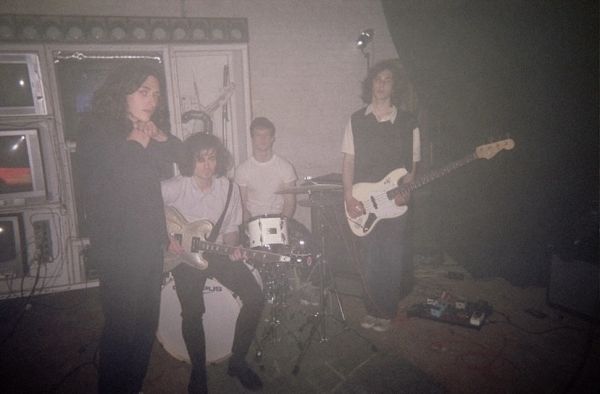 11 June 2021
Courier Club – Photo Credit: Alex Bui
The early 2000s are an often overlooked time for rock and roll. The '90s had deconstructed rock back down to its bare essentials, and artists began putting the pieces back together. Philadelphia's Courier Club are something like musical horticulturalists, managing the disparate flora and fauna of the genre into semblant, dynamic pieces of art.
Their newest single, the stirring and emotive "Foreign Ground," showcases the splendor and urgency of their pop-rock songwriting and indie rock/post-punk sound.
Courier Club have always taken an unorthodox approach to putting themselves out there. The band released four singles between 2018 and 2019, then synthesized all the ground they'd covered into the EP Drive Like Your Kids Live Here in April of 2020.
Of course, the struggle of the past year was enough for many artists to throw in the towel. But, Courier Club managed to further their success through hosting a Minecraft music festival to grow their online fanbase. And now, Courier Club are back at it again with a brand new single chock full of new sonic exploration
"Foreign Ground" recalls the urgent arena rock of bands like The Strokes and The Killers, but reimagined and reinvigorated for the current decade. Kicking off with swelling synth pads and an ardent, steady bass groove, this is exactly the type of song for those hot summer nights. Giant, angular guitars surround the overdriven vocals.
Together, the bandmates craft a larger-than-life sound. It's the most realized effort from Courier Club yet, but still drips with youthful melancholy. "Foreign Ground" would sound natural in a giant stadium or a small town house show. It's a testament to this act's ability to write a song that feels universal, yet also unforgettable.
In the video, the outfit performs while surrounded by a bunch of TV sets. The blinking, bending static and white noise resembles the LED landscape of the 21st century. Video of the band playing stutters across the TV screens, perhaps as a reminder of how we project our own images onto screens daily. As the light pollution surrounds the band, the band looks effortlessly cool. This video is a brilliant visual representation of a band at the top of their game.
Rock and roll is in good hands. With "Foreign Ground," Courier Club are signaling a shift in the genre that is looking simultaneously backwards and forwards. In the rearview is the arena rock of the early '00s. Up ahead, urgent, accessible indie rock will continue to shift and bend along with the times.
The band kindly partook in a chat about their sound and vision.
Hey guys! So what was it like crafting this song? It all feels and looks so natural and effortless. Did it come together quickly?
"Yes and no. We entered the studio with a handful of loose song ideas and canned them all for a last minute new idea that became Foreign Ground. It grew naturally from a bass line our bassist Mop (Michael Silverglade) was playing while getting a level for the mic setup. Something about the tone and line itself created an irresistible urge for us to stomp along to it. We then formulated the entire structure in the matter of an hour while in the studio. Although the caveat of an idea created on the spot is not having a predetermined idea of what it should sound like. (mix- and production-wise). So although the composition was quick, the post production took ages. We experimented with different styles in a 5 month game of whack-a-mole."
For this music video, you partnered with a visual artist/DJ to contort the images on the screens. What drew you to that type of visual representation for the song?
"The idea of the music video was to create a sculpture which displayed the visual inspirations we drew from while recording "Foreign Ground"; something the viewer could interface with and visually surf through to see all of our subconscious influences. These videos consisted of '80s Soviet synth-pop music videos to old Star Wars video games. Also, one of the TVs displayed scenes from a '70s-esque space opera movie that we were working on over quarantine. We tried doing it all on film using miniature models and blue screens which resulted in us running out of money before we finished it. Nevertheless, the footage was donated to the machine and lives on in this video. Who knows maybe we will finish it one day."
How has music changed over the past year for you? You've developed a large online fanbase. How do you plan to bring that back into the world as America opens back up?
"This past year gave us a ton of time to reflect on what the purpose of a band is. How does it give value to the world around it? And more so why does it deserve to exist in this new world going forward? For example, there was a concept we reflected on while building Block by Blockwest that 75% of your experience at a concert is derived from the people around you, not the band you are there to see. The band is like a hub to bring like minded individuals together. Yes there is still that personal dream to fulfill of playing on stage in front of thousands of people, but there is a way to do that responsibly; hijacking that self-serving nature for something productive. Less troubled, misunderstood, hoity toity artist mythology – and more hardworking tools for human connection."
What's next for you?
"We're working to release a steady flow of singles over the coming months. Just a nice slow drip of music created in the moment. Our touring plans are going to be a series of weekenders in different cities. In addition to the concert, there will be a second after party event in the form of something between a rave and an art exhibition. We are planning to team up with local artists and event planners in the different cities as well as with our friends in Downtown 500 (An event hosting company that specializes in showcasing up and coming artists and events such as AR art galleries). The idea is in its earliest stages and could change radically by the time it materializes. However, the main idea of the whole operation is to create a complete experience for the antendee rather than just a traditional club show. We want to give people something to remember. And no that doesn't mean throw yourself into the drum set."