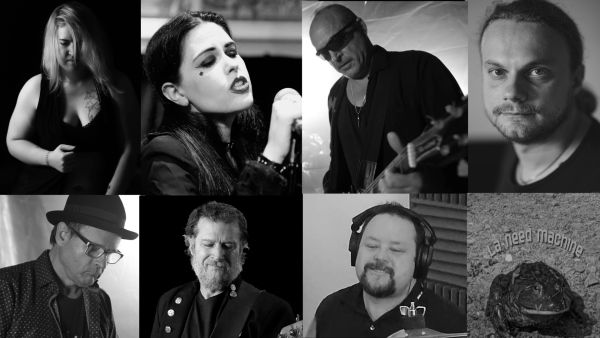 28 October 2022
La Need Machine collage – Photo Credit: La Need Machine
Just in time for Halloween, we've got Seattle band, La Need Machine, with the new single "Scary Voices," and its accompanying music video. It's got a cool Concrete Blonde-like vibe to it, as we follow the fictional main character in an unwritten horror movie.
La Need Machine grew up in the Seattle area and developed a unique but classic Northwest rock and roll sound and ethic. They rock hard, they work hard, and they have a good time doing it!
A community-support ethic is the foundation for the band. La Need Machine donates significant portions of the proceeds from videos and streams to charities that help people in their community and around the world. Charities they are currently supporting are:
· The Trevor Project
· National Alliance on Mental Illness (NAMI)
· Mary's Place Emergency Family Shelters
· American Nurses Foundation
· Tetiaroa Society (Marlon Brando's non-profit)
· Childhaven
· Global Impact – Ukraine Response Fund
· Doctors Without Borders
· Ukrainian Community Center of Washington
There are some cool folks with killer backgrounds in this band, but their keyboard player, Art's story can't be beat. He is a Ukrainian citizen currently living in Khmelnytskiy. His house in Kharkiv was destroyed by the Russian Army last year, so he had to flee to Khmenlnytskiy. Despite all this, Art continues to inspire by playing incredible music and keeping a positive outlook. That's amazing.
La Need Machine's new album Killer Instinct releases November 11th.