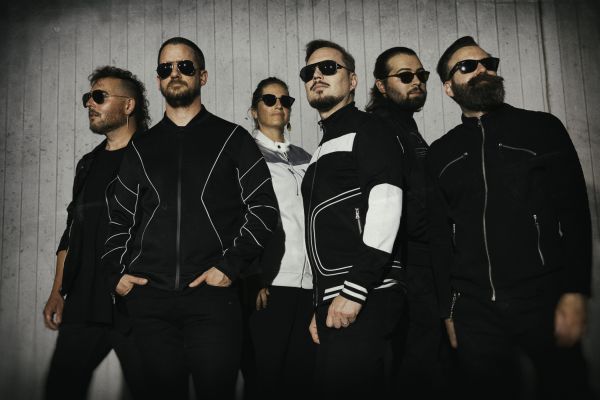 17 August 2021
Monta At Odds – Photo Credit: Todd Zimmer
Upon first listen, Monta At Odds evoke something reminiscent of a sinister blend of Depeche Mode, Arcade Fire, and Massive Attack with a wash of rotating vibrato guitars, lulling airy vocals, a wall of dungeon-esque and astronomical synthesizers, and hypnotic, coupled motion of drums and bass.
The band's album Peak Of Eternal Light is an underworld of disco, trance induced harmonic structures, shadowy Berlin-Techno tendencies, and an unequivocal wall of ethereal sound that is where Monta At Odds has decided to embark sonically.
Peak Of Eternal Light, out now via Record Machine Label, is not the first release for the Kansas City-based collective, and it seems to be an extension of their sound from their previous 2014 record, Robots Of Munich, as well as more of an instrumentation/arrangement departure from earlier 2008 output, Gringo.
If one thread is common in the development of the group, it is the knack for improvisation, thirst for experimentation, and disregard for convention and predictability – one of many products as a result of its array of members.
The outfit's core dynamic lies in the art and spirit of collaboration. Brothers Dedric and Delaney Moore lead the lineup that also composed of Krystof Nemeth (Emmaline Twist) on baritone, Matthew Heinrich (Mysterious Clouds) on drums, Kenn Jankowski (The Republic Tigers) on synth, and Lucas Behrens on guitar and synth.
Peak Of Eternal Light also included Mikal Shapiro and Teri Quinn, who provided otherworldly vocal contributions in the foreground to the neo-Gothic, dark synthpop landscape behind.
The homogeneous blend of contrasting creative ideas is evident in the mingling of lunar soundscapes, breath of synthetic atmosphere, and impending ethereal textures driven by drum and bass dance grooves.
Monta At Odds just as seamlessly jump from techno-based grooves to breakbeat, uptempo, yet noir landscapes, and experimental jam developments with ease through the duration of the record. Out of infinite darkness, Monta at Odds have reached a pinnacle of frequency, a singularity in time, and a Peak of Eternal Light.