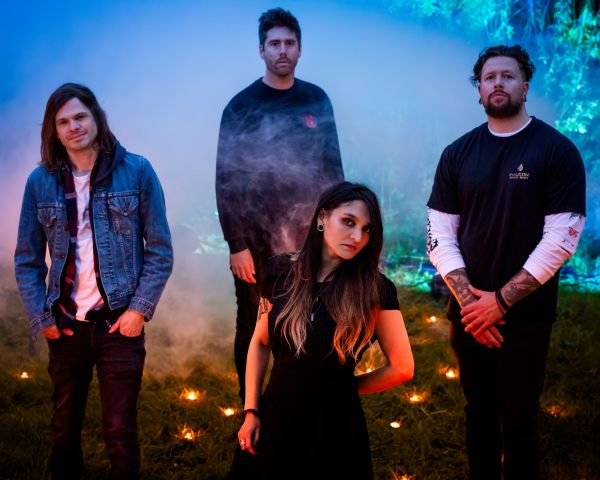 6 August 2021
Slow Crush – Photo Credit: Kat De Laet
Belgian heavy and dark shoegaze band Slow Crush have held listeners in thrall ever since the release of their acclaimed debut album, Aurora, in 2018.
Slow Crush was once on the now-defunct Holy Roar roster, but has now found a home at fledgling, but mighty fine label Quiet Panic (Tennis System, Beach Slang, Filth Is Eternal).
The outfit meld and morph atmospheric rock, dynamic shoegaze, grimy grunge, and abrasive noise pop into absorbing and transporting voyages that are both tactile (sonic textures and density) and intangible (ephemeral brooding moods).
Songs are mesmerizing and restless tracts that are composed of passages that propulsive and fulminate in guitar-driven fervor and/or introspectively shimmer with slowly unfurling soundscapes, courtesy of band members Jelle Harde Ronsmans (guitar), Jeroen Jullet (guitar), and Frederik Meeuwis (drums).
Vocalist and bassist Isa Holliday's ethereal and forlorn vocals glide through the vast expanses to shadowy recesses of sound, haunted with angelically spectral longing.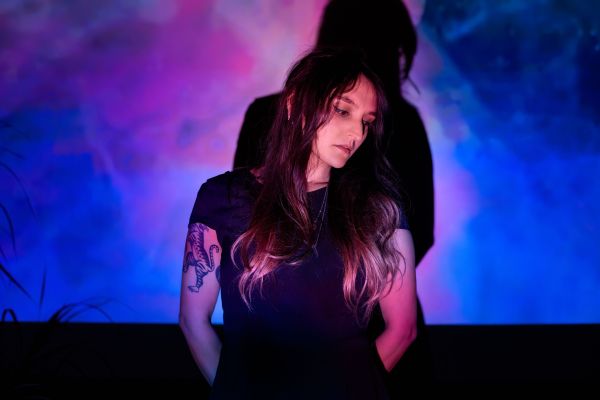 Slow Crush's highly anticipated second album, Hush, is set for release on October 22nd via Quiet Panic and Church Road Records.
The band reveal, "As with our previous [music], recurring Slow Crush themes of escaping reality, romanticism, and compassion can be found in Hush, our gloomy and dreamy [second] album. Radiating moonlit warmth through a haze of… whirling layered guitars and soul-soothing vocals."
"Musically and lyrically, we've taken a slightly darker path, touching on some of the events and societal issues of the past year – "Bent and Broken" expressing this the most explicitly. We feel there is a story running through and a meaning behind the songs, but prefer to allow the emotion of the music to speak for itself."
Transfixing lead single "Hush" and its accompanying mystical and enigmatic music video, directed by Bobby Pook at Sumo Crucial, arrive today, August 6th – and it's been well worth the wait.
Listening to the enthralling and dreamy title track is like falling backwards into a star-filled night sky – a surrendering of a reality that's besieging the mind and body, and an embrace of the unknown…
Hush pre-orders, tickets, records, and merch at LINKTREE
TOUR DATES 2021
AUG 21 PUKKELPOP FESTIVAL
OCT 20 Botanique BRUSSELS
NOV 06 Trix ANTWERP
NOV 12 Duyster Festival GHENT
NOV 28 MOD HASSELT
TOUR DATES 2022
JAN 14 Cactus club BRUGGE
FEB 22 X120 VILNIUS
FEB 23 Sveta TALLINN
FEB 24 On the rock HELSINKI
FEB 25 Serdce SAINT PETERSBURG
FEB 26 Fabrika MOSCOW
MAR 02 V11 ROTTERDAM
MAR 03 Patronaat HAARLEM
MAR 04 Little devil TILBURG
MAR 05 Supersonic PARIS
MAR 15 Mtc COLOGNE
MAR 16 Nachtwache HAMBURG
MAR 17 Vega COPENHAGEN
MAR 18 Zukunft am Ostkreuz BERLIN
MAR 19 Poglos WARSAW
MAR 20 Akademia WROCLAW
MAR 21 Underdogs PRAGUE
MAR 22 Dürer kert BUDAPEST
MAR 23 Kulturak BRATISLAVA
MAR 24 Orangehouse MUNICH
APR 08 Knitting Factory NEW YORK, NY
APR 09 Sonia CAMBRIDGE, MA
APR 10 Songbyrd WASHINGTON, DC
APR 12 Canal Club RICHMOND, VA
APR 13 Local 506 CHAPEL HILL, NC
APR 14 New Brookland Tavern COLUMBIA, SC
APR 15 Vinyl ATLANTA, GA
APR 16 Soundbar ORLANDO, FL
APR 18 Archetype JACKSONVILLE, FL
APR 20 House of blues NEW ORLEANS, LA
APR 22 Secret group HOUSTON, TX
APR 23 Brewery AUSTIN, TX
APR 24 Three links DALLAS, TX
APR 26 Rebel lounge PHOENIX, AZ
APR 28 Soda bar SAN DIEGO, CA
APR 29 Lodge room LOS ANGELES, CA
APR 30 Constellation room SANTA ANA, CA
MAY 01 The Independent SAN FRANCISCO, CA
MAY 05 Fox Cabaret VANCOUVER, BC
MAY 06 Funhouse SEATTLE, WA
MAY 07 Hawthorne lounge PORTLAND, OR
MAY 09 Kilby Court SALT LAKE CITY, UT
MAY 10 Hi-dive DENVER, CO
MAY 12 7th street entry MINNEAPOLIS, MN
MAY 13 Cobra lounge CHICAGO, IL
MAY 14 Hoosier dome INDIANAPOLIS, IN
MAY 15 The loving touch DETROIT, MI
MAY 17 Big room bar COLUMBUS, OH
MAY 18 Mahall's CLEVELAND, OH
MAY 20 Monarch tavern TORONTO, ON
MAY 21 Club saw Ottawa, ON
MAY 22 Bar le ritz MONTREAL, QC
MAY 24 The Fillmore PHILADELPHIA, PA
Slow Crush at Quiet Panic STORE
SLOW CRUSH
Website
Facebook
Twitter
Instagram
YouTube
Bandcamp
Spotify