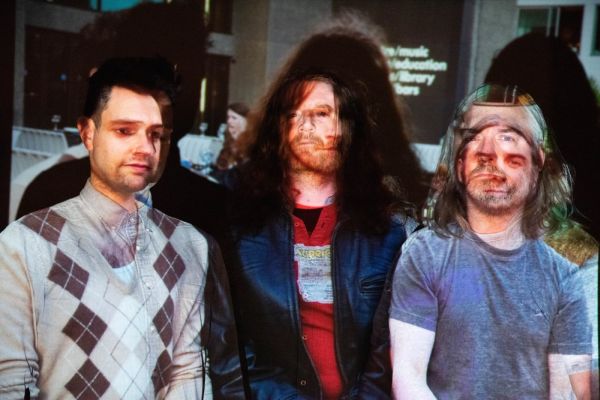 11 August 2022
Motorcycle Display Team – Photo Credit: Joseph Duggan
One of the epic anthemic peaks of the new full-length from UK band Motorcycle Display Team is the fervently confrontational "Armchair Politician," which is the new single, as well as the first video from album WEREMAN, out October 7, 2022.
The song powerfully and sinuously addresses people who feel they already know all the right answers to feel comfortable making big decisions for everyone else. Or as lead singer and guitarist Steve Hinds puts it even more elegantly, "This song laments the loss of common sense, decency and compassion amid the vicious, pernicious partisanship and eternal outrage at the heart of the public square."
Hinds has the same charm and fire as many of the best political rock ranters from various topically-charged eras, combining knotty guitar shreds with seamless harmonies and exasperating rhythms from drummer Morgan Condon and bass from Matthew Eyre (along with Drew Thompson).
On WEREMAN's tensile and tough ten tracks, MDT focally bases its sound on Condon's speeding engine-like drums, with the vocals and guitar/bass jostling and toggling around the top in formation.
The album title comes from Hinds' vision of the band as a "savage beast that only reveals its humanity once a month. An atavistic creature that plays an outsize role in our current social and political narrative."
Motorcycle Display Team had toured across Europe over the past few years till more apocalyptic events put them aside for a bit, and now they are anxious to share the news and noise on a UK-plus tour coming soon. Best described as "Arch Rock" it merges the best of hard-edged anthems with unexpected, adventurous thrills hat should not be missed live.
Watch the official Video for "Armchair Politician" by Motorcycle Display Team below, from the album Wereman, coming out October 7, 2022.
"The video was made by an exciting new production company run by Mihai Feflea and Josie Cronk, who have both just graduated from London College of Communication with Firsts in BA Film & TV," Hinds adds.
Credits:
Made by Full House Films
Directed by Mihai Feflea
Director of Photography – Josie Cronk
Production Designer – Leah Coulson
Starring Rux Amarazeanu, Katarzyna Misztura, Alix Werner, Felix Cronk
Bandcamp
Facebook
Twitter
Instagram
Music Glue