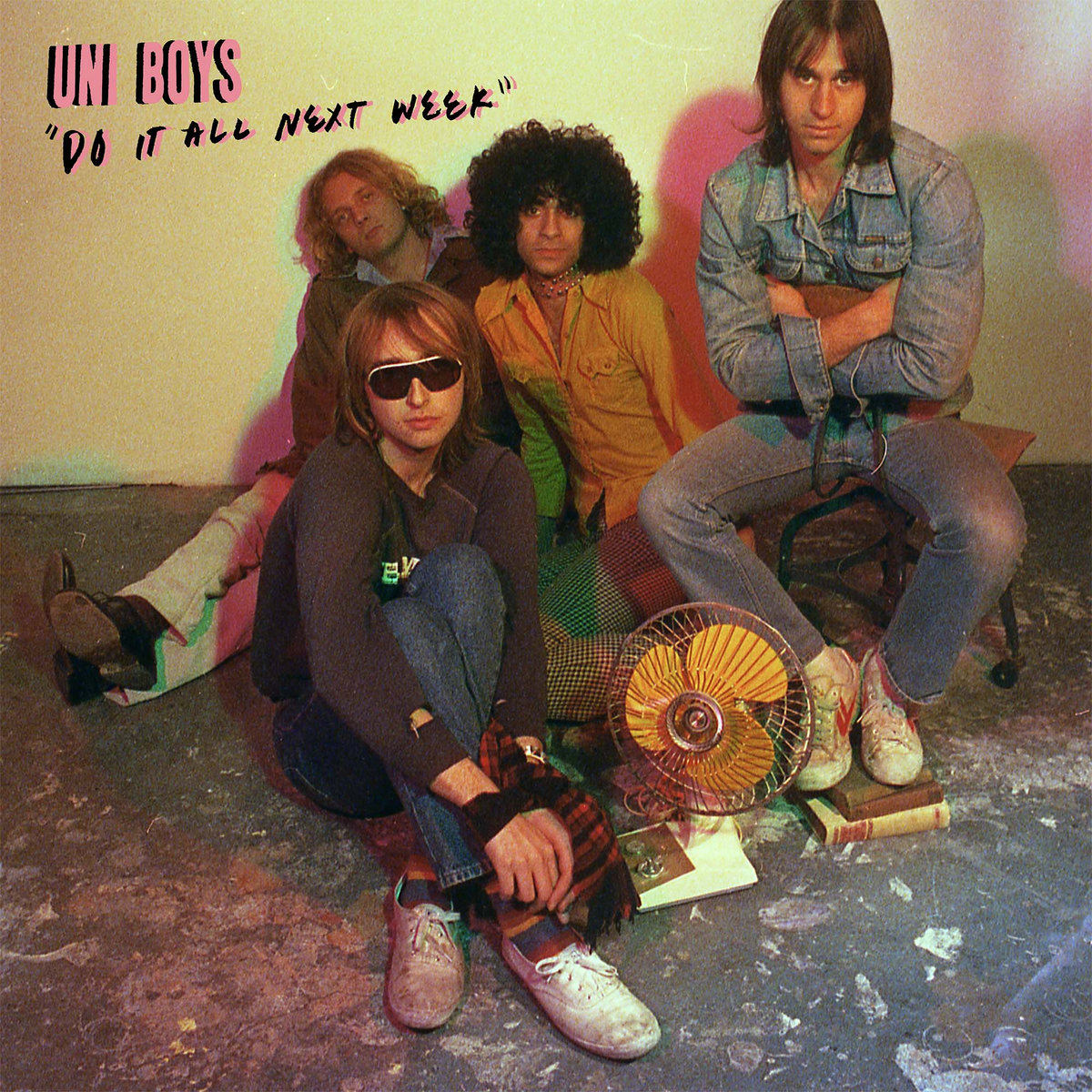 22 September 2022
(Uni Boys: Arthur Fitch, Noah Nash, Reza Matin, Michael Cipolletti)
The road to creating a classic power pop album isn't always a straight line.
For SoCal quartet Uni Boys, the journey began in their mid-teens when Noah Nash and Reza Matin discovered punk rock. The two budding musicians quickly picked up a guitar and bass before enlisting drummer Arthur Fitch to form a no-frills high school trio called Uniform (the band name evolved from there).
"It wasn't too calculated. We were just playing fast and simple songs," Nash said. "The ball started rolling for us as a band, so we thought we should hone in on what we wanted to do."
Early success playing backyard parties sent the two songwriters on a six year journey to discover their sound. Punk rock led to explorations of psychedelic music and glam rock before Nash and Matin were lured down a '70s/'80s YouTube rabbit hole originally inspired by the Beatles, the Beach Boys, the Velvet Underground and Big Star.
"It was a cool progression. We got into bands like Mahavishnu Orchestra, but we took a different route when we started listening to Canterbury scene bands like Soft Machine. Then we transitioned into more structured power pop stuff," Matin said. "We were looking for obscure power pop bands that only put out like one seven inch, just sending each other stuff…it definitely influenced our writing."


The bands that helped propel the two young songwriters further down the power pop path include
Milk 'N' Cookies
,
the Quick
and
the dB's
. Over time, that list grew to include everybody from
Raspberries
,
Shoes
and
the Speedies
, to
Squire
,
Pointed Sticks
and
the Scruffs
.
That mash up of influences bubbles just under the surface of Uni Boys' impressive third album, Do It All Next Week (Curation Records). The 12-song collection hit streaming services in September (with CDs/vinyl on pre-order), but already has many die-hard power pop fans buzzing about the band's timeless songwriting and scrappy rock and roll charm.
I first discovered Uni Boys when a friend sent me a link to their 2021 single "Long Time No See" (the track also appears on Do It All Next Week). The mid-tempo opening riff, subdued vocals and lovesick lyrics immediately got my attention, but I was completely hooked when a breathy Bolan-inflected "yeah" introduced a triumphant guitar solo.
"The inspiration for writing the 'Long Time No See' lyrics was breaking up with my ex," Matin said. "I was listening to a lot of music with really hooky choruses. So that was my goal with that song."
Mission accomplished. I had "Long Time No See" (b/w "Rock N Roll Dream") on repeat for about a week before checking out their back catalog. Uni Boys previously self-released two more experimental albums as a trio, Rock 'N' Roll Music and Heavy-Hearted, that feel like crucial steps in their songwriting and stylistic evolution.
"We went years and years without really ever recording anything, just like demos and stuff. When COVID came, we decided to sit down and record everything we had in that moment. That's when those first two Uni Boys albums came out," Nash said.


Those two albums got the attention of a couple indie labels including
Brent Rademaker
(
Beachwood Sparks
,
GospelbeacH
) at Curation Records who offered to re-release them—but Nash and Matin had more ambitious ideas. Armed with a stash of recent demos, Uni Boys suggested that Curation release a collection of new material instead.
"We just decided to take it up a notch from what it was as a three piece," Matin said. Part of that evolution included adding Michael Cipolletti (bass) to the core trio of Nash (guitar/vocals), Matin (guitar/vocals) and Fitch (drums). "We started thinking about how we were actually going to write our songs…And the more we thought about structuring out the songs, I think the better they got."
Nash and Matin split the songwriting duties equally in the band, each singing lead vocals on the tracks they write. Creative divisions can sometimes make an album feel uneven, but Do It All Next Week is seamless from the hooky guitar riff of lead track "You Worry About Me" to the final decaying notes of decidedly darker album closer "Daily Dose."
In between, listeners are treated to some of the most note-perfect '70s/'80s-influenced power pop in recent memory. Standout tracks include the mid-tempo groove and screaming guitars on "Downtown," the sing along choruses and crucial handclaps on "One More Night," and the jangly New Wave glory of "Up To You." Side one is a faithful ode to Bomp!-era Los Angeles, while side two veers slightly toward '70s New York—but it all hangs together under the tattered banner of rock and roll.
Drawn as I was to the guitar work on "Long Time No See," I was thrilled to hear muscly playing and tasteful licks woven throughout songs like "On Your Lovin' Mind" and "Hypocrite." At their best these guitar interludes are reminiscent of bands like Bram Tchaikovsky or the Records, always in service of the song and never about technical wizardry. (It's no surprise that Nash and Matin share Alex Chilton as their main guitar hero, with Johnny Thunders near the top of the list.)


"This was not approached as an album at all. We were just messing around like we had with the last two albums. It kind of became my job to finish recording and mixing in a way that tied it all together. Luckily, it kind of did eventually start to sound like an album," Matin said.
No small feat considering that Uni Boys recorded and mixed most of Do It All Next Week on a laptop in Matin's bedroom (the drums were tracked in his parent's garage). The fact that this collection manages to sound like a classic power pop studio album is a testament to the band's deep understanding of—and respect for—the genre.
But Uni Boys don't always embrace the power pop label with wide open arms.
"The whole sub-genre thing can feel confining, to the point where you feel a little trapped. People can obviously call our music whatever they want, and we understand that it does resemble all those qualities of what you'd call 'power pop,'" Nash said. "But when it comes down to it, the music we make is rock and roll."
Whatever you label the 12 songs on this collection, it's highly recommended for fans of timeless guitar pop driven by hooks and heartache. The road to creating a classic power pop album isn't always a straight line, but the four twenty-somethings in Uni Boys got there. I predict we'll see Do It All Next Week on quite a few "Best of 2022" lists.
More Power Pop Articles
INTERVIEW: I Want My 'MTV'—Mo Troper Interview
FEATURE: Power Pop NOW (Young Guv, Mo Troper, 2nd Grade)
INTERVIEW: Peter Gill's Top 5 Favorite Power Pop Albums