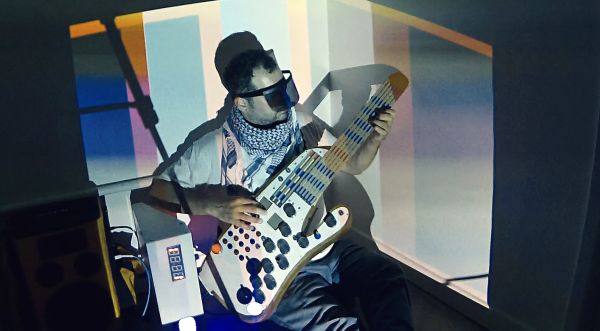 1 August 2022
Smomid – Photo Credit: Nick Demopolis
The moment you listen to the glitchy blips of Smomid, you just get the feeling this is a jazz guy. So it was with great pleasure to read about this Los Angelino and find that he has an extensive jazz background; playing for many years with the legendary Chico Hamilton.
Nick Demopolous is the name behind the moniker, which is an acronym for String MOdeling MIdo Device. Demopolous has not only been creating music for years, but also the instruments used to create the music.
His latest album, Cyber Solstice, was released Friday, July 29th. It's not an easy listen by any stretch; just like a true jazz musician. There's a lot to like from the uneasiness of "Cre8tive Destruc$ion" (inspired by the George Floyd protests) to the layered goodness of "Andrenachromatica."
Smomid's music draws on many varied influences and creates bizarre juxtapositions with deft sonic versatility, with heavily distorted kick drums, Gregorian Monks chanting and samples of ocean waves coexisting comfortably.
After listening to several Smomid tracks one gets the impression that anything is possible and that all sound universes can coexist.
One thing that doesn't come across in an audio transmission is that there is also a visual aspect to Smomid's music. All the instruments emit light through high powered LEDs, and some illuminate visual animations through LED displays embedded in the instruments.
Additionally, video animations are being controlled by Smomid interfaces and are often present in live performances as projections or on a video monitor. Maybe we'll get some videos in the future.