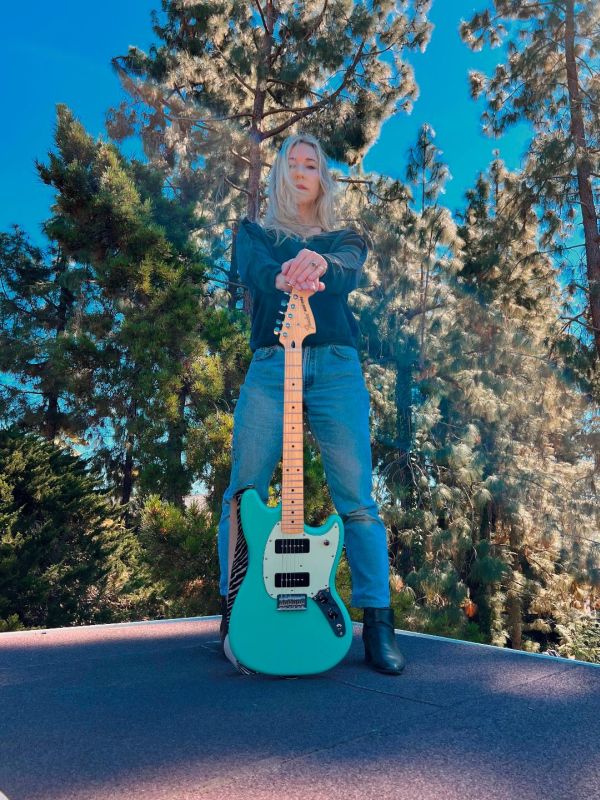 9 July 2022
Tamar Berk – Photo Credit: Steven Denekas
Singer and instrumentalist Tamar Berk is a literate songwriter with a haunting, atmospheric sound steeped in 1990s alt-rock, '70s to '80s power pop, and '60s psychedelia.
A native of Cleveland, Ohio, Berk played music growing up, danced in a professional ballet company, and earned a degree in Photo-Illustration from Kent State University before moving to Chicago.
It was there that she formed the power pop trio Starball releasing music on Thick Records and Minty Fresh. She also formed the electro-punk duo The Countdown with her husband, releasing music on Invisible Records. Her rock-inspired band Sweet Heat with Kim Thompson (Delta 72) released a single on Kill Rock Stars.
Eventually, the couple relocated to Portland, Oregon, balancing day jobs with various musical projects, including the '60s-inspired garage band The Pynnacles and '70s-inflected Paradise, all while Berk continued to write her own songs at home.
After moving to San Diego, she was once again left without a band. She decided to focus on her own songs and began producing, recording, and transforming her songs, with drummer Matt Walker (Morrissey, Garbage, Smashing Pumpkins, Filter), engineer Matt Thomson (Maita, The Hague), and producer/mixer Sean O'Keefe (Beach Bunny, Fall Out Boy, Plain White T's, Rachael Yamagata).
Berk's album The Restless Dreams of Youth made a big impact in the indie pop and power pop community and ended up on many Best Of 2021 albums of the year and was nominated for two San Diego Music Awards for Best Pop Album and Album of the Year.
Soon after the release of her debut album The Restless Dreams of Youth, she began writing songs for her follow-up album, but had no release date in mind. She had notebooks of lyrics and began recording new demos and discovering some older songs she had put aside.
In June of 2021, her father died unexpectedly and she struggled to keep from falling into a deep depression. Trying to deal with the emotional fallout of losing her father, she began spending more and more time in the studio. She soon discovered a definite theme emerging out of the songs and lyrics and decided to complete her follow-up LP entitled Start at the End in which she finds herself yearning to know how things will end even before they begin.
She released Start at the End this past April, which resulted in overwhelmingly positive reviews, a slew of interviews, and even landing two songs on the NPR New Music Friday playlist. Start at the End also charted in the top 200 NACC radio chart for 6 weeks.
Ryan Martin of Jammerzine wrote, "Having just come fresh off the heels of the 31st Annual San Diego Music Awards as a multiple nominee, Tamar showcases a clear evolution of an album with Start at the End. I have no other way to say this then this is a beautiful album. Done as a series of life-stories and as a therapeutic diary, Tamar makes each song a personal and relatable journey that we can all not only relate to, but learn from."
Currently, Berk is working on new material, playing live shows on the West Coast, and selling her excellent albums, as well as out-of-print CDs of her old bands on her new WEBSITE
Bandcamp
YouTube
Twitter
Instagram
SoundCloud
Facebook