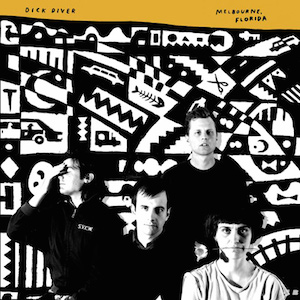 3 February 2015
The island continent of Australia has experienced a sort of rock renaissance in recent years, and Dick Diver stands as one of the best bands the lucky country currently has to offer. While "'Straya" has long been home to legends like AC/DC and Nick Cave, you'd be hard pressed to find strains of them anywhere on Dick Diver's newest album Melbourne, Florida. Instead, the band pulls from underground Aussie heroes like Paul Kelly and The Triffids, with their own brand of kitsch thrown in.
In a short time, Dick Diver have created some monumental works (New Start Again and Calendar Days spring to mind) that not only display deft and diverse songwriting but also some ace guitar and lasting melodies. Melbourne, Florida is no different than its predecessors, but does show a newfound confidence. Band member Rupert Edwards says, "I felt what I think is the most confident I might ever feel about recording. Not confident like 'Phil Collins confident', but confident like 'Kate Bush confident,' or something."
What Edwards says really comes through on their lead single "Waste the Alphabet," a jangle rocker that takes their distinctive looking glass lyrics and bends them around the long-loved pop sounds of their homeland, while introducing a few hot moves of their own. "Year In Pictures" harks back to earlier records, with added emphasis on the keyboards, horns, and deep thoughts.
"Private Number" and "Tear Down the Posters" inhabit the same shade of striking guitar pop that Dick Diver have painted with from the beginning. "Boomer Class" acts as a great meditative counterpoint to album opener "Waste the Alphabet," and "Blue Time" may be the loveliest song the band has ever penned.
There's a definite step up in production throughout Melbourne, Florida. The pieces just fit more willingly together than on past releases. The arrangements are not only more deliberate, but also more varied with keyboards, piano, sax, and other horns all prominently featured. On making the album, Edwards says, "This was the one where the least got in the way. We were absurdly prepared, like dumb rich mountaineers. Mixing and overdubs took way longer than ever before, but in hindsight it seemed kind of frictionless, which worries me." Edwards goes on to say "and we thought 'fuck it, let's get a horn section'."
Rest assured, Edwards has nothing to worry about. Melbourne, Florida (and the rest of Dick Diver's catalog, for that matter) displays a great band making high art that'll most likely be cited as an influence in the years to come, if not sooner.