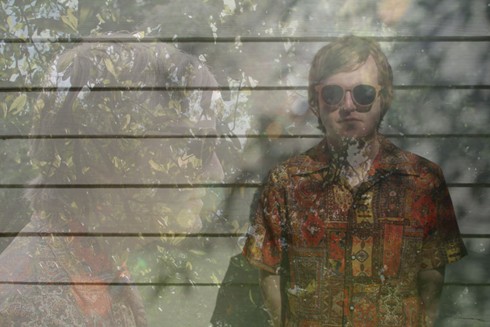 11 June 2012
Back in 2009, Mississippi-based Dent May released his debut album, The Good Feeling Music of Dent May & His Magnificent Ukulele. It was an album full of many charms: simple, unpretentious songwriting accentuated by clever lyrics, warm melodies, and May's lovely singing voice, all of which was accentuated by an instrument of simple charms, the ukulele. Recalling artists such as Stephin Merritt, Calvin Johnson, and Paul McCartney, it was easy to fall under its spell.
Fans of that album's style may find themselves shocked by Do Things, his recently-released sophomore album, because the ukulele is nowhere to be found, nor the sunny sounds that came with it. "I knew from the start that I would never make more than one album on the ukulele," states May.
What happened? "By the time that first album came out, I was already fed up with the uke. I think that led to a lot of the pain and stress I felt that led to the writing of Do Things. I didn't write a song for two years, because I just felt lost. I don't want to go down in history as the guy who played ukulele. I want to show people that I can do anything."
A fair enough sentiment, that. After all, while an artist should want to define their style and their art, they should not be defined by and constrained by it—an occurrence that's especially true for an artist working with unique instruments. Instead, May's sound goes for a more traditional pop sound; it's part new-wave, part indie-pop, and though it's totally different from what people came to know as Dent May, it's still a fine collection of strong pop songwriting.
"I'd like to think the sound of the new album is a natural synthesis of all the music that I like. I consciously wanted to draw from a lot of different inspirations, but when I sat down to do it, I tried to think as little as possible. Thinking too hard about how I might be perceived was a huge creative block, hence the title of the album. Don't think. Do. The album is also the product of what I had available to me around the house. If I had the resources to record orchestras and gospel choirs, that would be on the record. I guess I'm saving that for the future."
To complete this ambition, he's prepared a full band to back him. "Live we're a four piece at the moment. All of the dudes touring with me are old friends I've known for a long time. Alex Warren plays a drum kit that includes an electronic pad with analog drum machine sounds on it. Cole Furlow of the band Dead Gaze plays bass guitar, and Thomas Cooper of the band Gray Things plays keyboards. I'm playing guitar live at the moment. I just bought a van, and I'm insanely excited to tour as much as possible."
May is also working hard to prevent the frustrations that have hindered him recently. "There's a ton of touring all over the world, but I'm also writing the next album. Hopefully, I'll be recording the next one later this year and early next year. I think LP3 will go even deeper into electronic club inspirations, but I want to combine that with more lush organic instruments like strings and horns. I've been thinking about finding an exotic location where I can record it inexpensively. There was a three year gap between my first two albums, and I never want that to happen again."