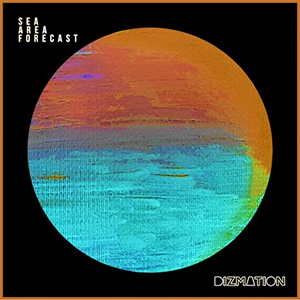 9 February 2021
Dizmation is the brainchild of Dublin musician Joey Doyle, and is set to release his debut album titled Sea Area Forecast. The album was recorded mostly in his home studio, and whereas many solo artists attempt to distance their sound from its homegrown origins, Dizmation fully embraces it. A melancholy claustrophobia enshrouds the eleven songs here, combining post-punk elements of New Order with the sludge of Nirvana, and although the rich production gives a full-bodied sound that could never be described as lo-fi, the roots in the DIY punk mentality are never far behind.
If this were not obvious enough, the music video for lead single "Still," with its montage of the artist obscured by a black hood as he does everything on his own from smelling roses to kicking a football, further proves Doyle's pride in producing this himself. Incidentally, "Still," with its wall of grungey guitars, is carried by the fantastic pop hook in the vocals and the subtle dance rock groove. There are occasional experimental piano or synth-led diversions with songs like "Oh the Beauty" and "Humanizer," but Dizmation is always at its best with forceful, melodic indie rock, including standouts "Limelight" and "Portal" (featuring guest vocals from Aniela).
It is still early in the year, but Sea Area Forecast, out February 10th, has all the makings to be one of 2021's strongest indie rock efforts.