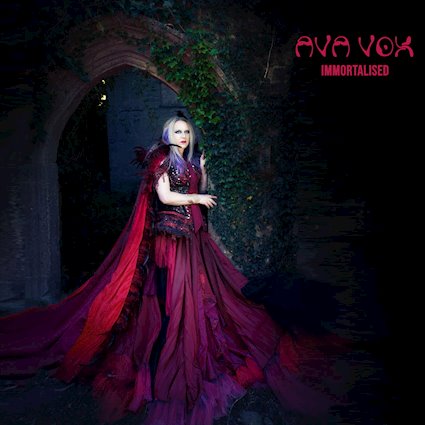 14 April 2022
When is a song finished? When the artist in question decides it is, I guess. And aren't recordings of songs just fleeting moments in time anyway? Just one stop on a longer musical odyssey. Well, if you agree with the above statements, and anyone with a broad and creative mind should, then the idea of an artist re-visiting, re-imagining, and re-recording songs from the past, giving them new meaning, new relevance, and a new life in the modern age seems like the most logical thing any artist can do.
It is exactly what Ava Vox does on her latest album, Immortalised, allowing a selection of songs written collectively by her and her previous band to have another day in the sun. well, perhaps not the sun as such as the hallmark of the music found here is a dark and delicious, gothic infused sound, evocative of more shaded places and shadowed lands.
There are joyously upbeat numbers, "Crash"'s pulsing bassline drive, and Vox's seductive vocals placing it somewhere between Skeletal Family's dark, alt-rock and The Banshee's experimental goth-punk hybrid. And then there are moments of understatement, "One Sweet Goodbye" feeling like Kate Bush had taken a much darker path, the music both beautiful and heart-aching.
And it is perhaps the artists that she chooses to cover here which help define the scope and scale of the music she creates. By covering "Tainted Love" she builds a bridge between the cold clinical Soft Cell take and the warmer climes of the original. The Cure's "Love Song" is reduced down to its very essence and by taking Bowie's "Life On Mars" and reworking it into a brooding classical piece she shows us just how far she is willing to push the boundaries of even the most established classics.
It's a gorgeous collection of music, from its sky-searing highs to its gentle lilting lows, from its energy and euphoria to its elegance and musical eloquence.