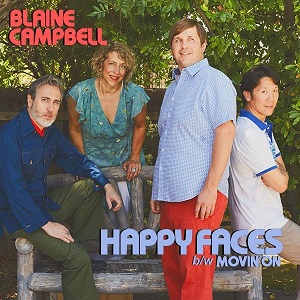 7 November 2019
The Southern California based musician Blaine Campell returns with a new single this Friday (November 8), a teaser for his upcoming album Under The Tidal Wave . This slice of slick warm air is atmospheric and nostalgic, "Happy Faces" is the sound of the Beach Boys with a little more balls. The original good vibrations of the shoreline, updated with an extra edge. In truth it follows perfectly the artists adventures on his last release, the well-received Blue Mind (2016). 
You can taste the salt in the air, and feel the sand beneath your feet, as the sound kisses your ears. A sweltering concoction that flows with Blaine's voice soaring alongside a melody-heavy guitar,  this gives the track a more alternative sound and steers it away from overpowering sweetness. All helped by the band Campell has put together for this and the long-player recording, aptly titled The California Sound consisting of David Cook, Chris Moore and Natalie Fratino. Together, they create a relaxed backdrop of class, inviting audiences deeper into the track, but the fun continues. 
As with the Big Stir digital single policy comes a 'B' side, "Movin' On", giving another dimension to Blaine's work. With a harmonica squeal the track launches into a wall of harmony, and acoustic guitars, it is simply transcendent. Both tracks set up nicely a view into what is to come from the Under The Tidal Wave album, by what is presented here, it can easily be viewed as the perfect summer soundtrack. 
To Pre-Order The Digital Single; 
Website
For More On Blaine Campbell;
Facebook
Website