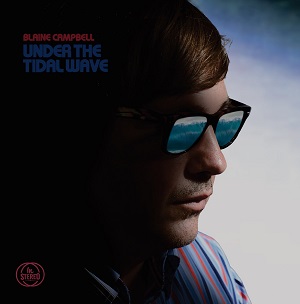 20 February 2020
The good nature of Southern California comes to the fore in the latest album by Blaine Campell. A highly anticipated release, Under The Tidal Wave continues the troubadours journey, an album that basks in spiritual vibes. In truth, his follow-up to Blue Mind (2016), is a collection of love songs to life, dealing with the good and the bad equally. What is apparent however, is the soothing sound of the album, Under The Tidal Wave is easy listening for the millennial generation, a calm from the storm which at times erupts in society.
The slick warmth stands out from the first wave of "Shoutin' Don't Count". A rocker with an Americana feel that blisters alongwith all the dynamics flowing freely. In "Happy Faces" you can taste the salt in the air, and feel the sand beneath your feet as the sound kisses your ears. The first slice of atmospheric goodness released from the set did not really quantify the vast themes of the album. 

The ivory baroque of the playful "Small Town Girl" is an unexpected turn which stretches the man's talents and gives audiences a firmer view of his talents. "Someday You'll Be Mine" delves back to the sixties' harmony that put California on the musical map. A beautiful piece which sways into a psychedelic menace at times, and back to harmonious sounds. The title track is a lush arrangement that holds a graceful edge. An instrumental which captivates as it strides through themes effortlessly. 
There is a subtle feeling of
Crosby, Stills & Nash
in "Our Life*, perhaps mixed with the more British sound of
ELO
. A piano drive attack that performs the backdrop for Blaine's voice to soar. "It Feels Like It's Real" follows the former very well. Up-beat jive with some furious percussion and a dreamy organ. The mammoth strings on "Almost Perfect" gives a different dimension to Blaine's work, his vocals are more intense, dramatic but still they echo with an inescapable hope. Pulling the dire into a world where things are positive, that is perhaps one of his obvious gifts, a way of pulling the good from the bad. 
The set comes to a close with the harmonica uplifting "Caroline's Rainbow", another instrumental that builds in stature. Until finally, the fitting "Time To Say Goodbye". A beautiful parting gift from an album which brings different genres, sounds, and ideas together. The feeling you are left with is that Blaine Campell is not so much reinventing the sound of a long ago time but is creating something fresh and new. Definitely worth checking out. 
Tracklist; 
1.Shoutin' Don't Count 
2.Happy Faces 
3.Small Town Girl   
4.Someday You'll Be Mine   
5.Under the Tidal Wave    
6.Blue Dolphin 
7.Our Life    
8.It Feels Like It's Real 
9.Surrender    
10.Almost Perfect    
11.Where She Used To Play 
12.Caroline's Rainbow 
13.Time To Say Goodbye
For more info;
Facebook
Website