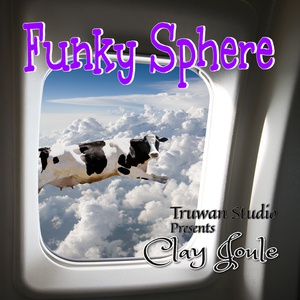 15 July 2022
Music works best when it comes from the heart, we all know that. And that doesn't have to mean that it has to be a slushy ballad to a loved one or an earnest anthem to the fallen. There is plenty of more everyday things to be grateful for. From Taco Bell's $1 Cravings Menu ( that's still a thing, right?) to good hair days, from sunsets to get a decent WiFi connection, it is easy to count your blessings.
Clay Joule is grateful for the airline workers, pilots, flight attendants, and employees of the sky, especially for their resilience during the recent pandemic. But then anyone who is a global traveler and has been lucky enough to call seven different countries home is going to consider air travel essential and be grateful for it.
Via some futuristic electronica, soulful guitar licks and splashes of percussion, buoyant beats, and infectious grooves, "Funky Sphere" pays tribute to those who fly the airways and allow us to do the same. It builds into a rock beast but one with an addictive pop heart, it moves from the understated and beguiling to the epic and anthemic but does so in slow and calculated increments so that you can't even begin to see the join.
Here's to "Funky Sphere" and all who fly with it, both in reality and metaphorically but most of all sonically!