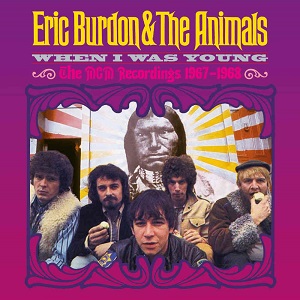 20 February 2020
Turn on, tune in and drop out with the brilliance and long overlooked psychedelic period by the dynamic Eric Burdon & The Animals. This is vital music from an adventurous time, and on further investigation you find the set has more in common with San Francisco than swinging London. It is far removed from "House Of The Rising Sun", and Eric Burdon's creativity and experimentation is firing on all cylinders. Here, via Esoteric Recordings comes a five-disc, comprehensive view of Eric Burdon & The Animals. 
In late 1966, Eric Burdon went through a transformation, parting company with most of his former bandmates, except for Barry Jenkins and brought in extra players John Weider (guitar/violin/bass), Vic Briggs (guitar/piano), and Danny McCulloch. With these new faces came a new address, and Burdon upped sticks and relocated to the sunnier Californian climate. Here, he left behind his Newcastle, hard-drinking, workingman's attire, and became a spokesman for the counterculture. 

With a new line-up, came a new record deal with
MGM
, furthered by the influence of
Bob Dylan
and
Velvet Underground
producer
Tom Wilson
. He became an integral part of Burdon's vision, sculpting his vision and creating the first offering by the band
Wind Of Change
. Released in October 1967,
Wind Of Change
landed with a lukewarm reception. Although remaining a psychedelic-rock classic, the album contains a rollicking rendition of the
Stones
classic "Paint It Black". Along with Burdon's tribute to his friend
Jimi Hendrix
, "Yes, I Am Experienced". 
Next came the May '68 release
The Twain Shall Meet
. This set, again produced by Wilson was a far more honed affair than the previous, containing the song "Monterey", an ode to the outfits' performance at the 1967 Monterey Pop Festival. Indeed, 1968 would see a further two releases by Eric Burdon & The Animals, in
Every One Of Us
and the double set
Love Is
. With the band bulked up by the addition of
Zoot Money
(Alexis Korner, Kevin Ayers).
Every One Of Us
lay unissued in the United Kingdom, but became a minor hit helped by the single "White Houses". The following and final album
Love Is
, released in December of '68, contained covers of "River Deep, Mountain High", "To Love Somebody", and the top-40 hit "Ring Of Fire". It was the final act and only album to feature future
Police
guitarist
Andy Summers
. From here, the band dissolved as Burdon set his sights on his next venture, the Californian funk rock band
War
. 
This set via Esoteric, respectfully called
When I Was Young – The

MGM

Recordings
, contains all the aforementioned four albums, with a fifth and essential mono mix of the '67 release
Wind Of Change
. With this, comes bonus tracks, 'A' and 'B' sides, an illustrated booklet with new essays. This is an exceptional set, for lovers of sixties, and fans of the accomplishments of the extraordinary Eric Burdon. 
Tracklist;
DISC ONE:
WINDS OF CHANGE
(RE-MASTERED STEREO MIX)
RELEASED IN OCTOBER 1967
1. WINDS OF CHANGE
2. POEM BY THE SEA
3. PAINT IT BLACK
4. THE BLACK PLAGUE
5. YES, I AM EXPERIENCED
6. SAN FRANCISCAN NIGHTS
7. MAN – WOMAN
8. HOTEL HELL
9. GOOD TIMES
10. ANYTHING
11. IT'S ALL MEAT
BONUS TRACKS
12. WHEN I WAS YOUNG
13. A GIRL NAMED SANDOZ
A & B-SIDES OF SINGLE –
RELEASED IN MAY 1967
14. AIN'T THAT SO
B-SIDE OF SINGLE –
RELEASED IN AUGUST 1967
15. GRATEFULLY DEAD
B-SIDE OF SINGLE –
RELEASED IN OCTOBER 1967
16. ANYTHING (SINGLE VERSION)
B-SIDE OF SINGLE –
RELEASED IN MAY 1968
DISC TWO:
THE TWAIN SHALL MEET
(RE-MASTERED EDITION)
RELEASED IN MAY 1968
1. MONTEREY
2. JUST THE THOUGHT
3. CLOSER TO THE TRUTH
4. NO SELF PITY
5. ORANGE AND RED BEAMS
6. SKY PILOT
7. WE LOVE YOU LIL
8. ALL IS ONE
BONUS TRACKS
9. SKY PILOT (PART ONE) (MONO SINGLE)
10. SKY PILOT (PART TWO) (MONO SINGLE)
A & B-SIDES OF SINGLE –
RELEASED IN JANUARY 1968
11. MONTEREY (MONO SINGLE VERSION)
A-SIDE OF SINGLE –
RELEASED IN MAY 1968
DISC THREE
EVERYONE OF US
(RE-MASTERED EDITION)
RELEASED IN AUGUST 1968
1. WHITE HOUSES
2. UPPERS AND DOWNERS
3. SERENADE TO A SWEET LADY
4. THE IMMIGRANT LAD
5. YEAR OF THE GURU
6. ST. JAMES INFIRMARY
7. NEW YORK 1963 –
AMERICA 1968
BONUS TRACK
8. WHITE HOUSES (SINGLE VERSION)
A-SIDE OF SINGLE –
RELEASED IN NOVEMBER 1968
DISC FOUR:
LOVE IS
(RE-MASTERED EDITION)
RELEASED IN DECEMBER 1968
1. RIVER DEEP, MOUNTAIN HIGH
2. I'M AN ANIMAL
3. I'M DYING, OR AM I?
4. RING OF FIRE
5. COLOURED RAIN
6. TO LOVE SOMEBODY
7. AS THE YEARS GO PASSING BY
8. GEMINI
9. THE MADMAN (RUNNING THROUGH THE FIELDS)
BONUS TRACK
10. RIVER DEEP, MOUNTAIN HIGH (SINGLE VERSION)
B-SIDE OF SINGLE – RELEASED IN NOVEMBER 1968
DISC FIVE;
WINDS OF CHANGE
(RE-MASTERED MONO MIX)
RELEASED IN OCTOBER 1967
1. WINDS OF CHANGE
2. POEM BY THE SEA
3. PAINT IT BLACK
4. THE BLACK PLAGUE
5. YES, I AM EXPERIENCED
6. SAN FRANCISCAN NIGHTS
7. MAN – WOMAN
8. HOTEL HELL
9. GOOD TIMES
10. ANYTHING
11. IT'S ALL MEAT
For more info, and to pre-order;
Website