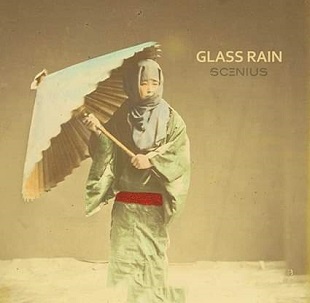 20 February 2020
The UK producer Steve Whitfield who engineered albums by The Cure, The Mission and Terrorvision, joins forces with France's Fabrice Nau of Kyu and Boutique Du Tao. Together their joint project is SCENIUS, an electro outfit which draws inspiration from the pre-punk sounds of Kraftwerk meshed with the post-punk new wave impulses of Depeche Mode. 
The outfits first slice of electro pop arrives on February 28th, and is a combination of all the aforementioned, given a twenty-first century makeover. With the use of techniques, talent,  and vintage synth machines, the track "Glass Rain" soars and winds into a kaleidoscope of blissful noise. A solitary tone that opens up as the beats build, and the somber voice of Fabrice ignites with a lyrical class usually associated with early eighties New Order. -
"There's a million books that say some truth was found,
In your hands they look like dead leaves on the ground." 
What starts as a minimalistic track, builds with atmosphere and becomes ever more addictive in its unique cool energy. This is a solid first offering, and the news is that "Glass Rain" is the first of four singles due from the SCENIUS over the spring and summer. So is the starting point for a much larger adventure. 
For more info, and to pre-order;
Website