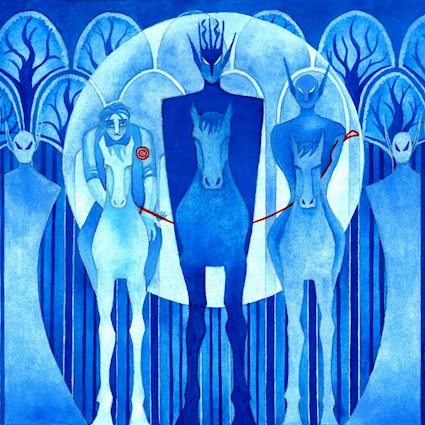 7 November 2022
One of the great things about folk music (as well as jazz and blues) is that re-interpretations, re-imaginings, and re-working of material already in the musical canon, are seen as the norm. Perhaps rock and pop covers (as they are called there) hold a more questionable and arguable position in some quarters. Putting your stamp on a folk standard (as they are called here) is essential to keeping the genre alive. They take the familiarity of the past and imbue them with new and often more takes on the genre's traditions. And that is precisely what is going on with his latest rendition of the 17th-century folk tune "Tam Lin".
At 26 minutes, this is more like a classical piece, a medieval folk symphony, one that is formed and forged of many passages and parts, acts, and interludes. But that is its beauty. Rather than a song, it is transformed into a piece of musical theatre, a sonic narrative that both tips its hat (presumably a tam o'shanter, a piece of headgear from the same era and area, no less) to the earlier, less ornate renderings of the work as well as more contemporary music fashion. In fact, it isn't hard to imagine late seventies Jethro Tull at the helm in its more weighty and energetic moments.
And despite its historical provenance, this meeting of past and present, folk and classical, tradition and reinvention will have broad appeal. Fans of folk will love it, as will fans of ancient music. But its more forceful deliveries will appeal to rock fans, especially those who lean into more progressive territories. And then, anyone looking for something different, interesting, adventurous, and outside their usual comfort zones will also find lots to love here.
Bandcamp
Order this music elsewhere
Spotify
Soundcloud