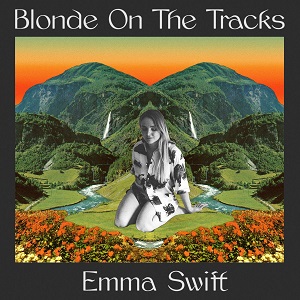 7 August 2020
There is an anomaly in terms of music. The cover version, that art of taking someone else's muse and sculpting it into your own image. Sometimes in works spectacularly well, transcending the original, point in hand Joe Cocker "With A Little Help From My Friends"), other times it fails miserably, such as Maroon 5 murdering "Three Little Birds". This is certainly not the latter, this is an exceptional piece of work by a shining star based out of Nashville. 
The Australian born Emma Swift has soaked up the historical influences of her surroundings and used them to create a dazzling album. Blonde On The Tracks, as the name implies, is an album of covers songs by the maestro Bob Dylan. A task in itself which is fearless, covering songs by Bob can lead to criticism by those hardcore fans, nevertheless, I'm sure they are more than happy with the care, if not love that his music is handled with.
The album was heralded by a more recent track from the Dylan repertoire, in "I Contain Multitudes". And this is the anomaly I first suggested. To the uneducated, or even lesser fan, they may be mistaken for thinking this is an original by Emma Swift. As she takes the song, and rebuilds it, injecting her own soul, and every ounce of emotion to make it reflect her own inner self. 

The opening track, a version of the
Highway 61 Revisited
classic "Queen Jane Approximately" sounds inspired. An acoustic driven version, which glides effortlessly, touching on that undeniable Nashville sound. Though "One of Us Must Know (Sooner or Later)" is an exceptional revision of the original, capturing the intention of the song and giving it a new lease of life. Further and "Simple Twist Of Fate" is simply haunting, with a slick guitar that mirrors the emotions of Emma's voice perfectly. Not the easiest song to cover, but this is just beautiful. 
The version of "Sad Eyed Lady of the Lowlands" is an epic which comes in shy of the 12 minute mark. Slightly longer than the
Blonde On Blonde
original. It is a transcendent telling of a classic, and the narrative twists and turns with the electric instruments adding to it's depth. One of the more unusual songs to appear, "The Man In Me", works and actually becomes one of the standouts of the set. With a nostalgic pumping organ, and a wall of acoustic guitars, all combing to create a lush piece of music. "Going Going Gone" from
Planet Waves
strides with that naked, raw passion that is normally associated with seventies
Emmylou Harris
. It is a thrilling rendition, with a drama that is becomes breathtaking at times. 
The album concludes with "You're A Big Girl Now" from Blood On The Tracks. It still holds that same one-sided conversation that enraptured the original. Again the uplifting organ swirls around the track, and a spectacular solo midpoint adds to an extra atmospheric touch. Blonde On The Tracks is lovingly captured by Wilco's Patrick Sansone on production duties, and more so features Soft Boys legend/gentleman Robyn Hitchcock on guitar. Both add to the elements that Emma Swift invests to create something unique from the canon of someone legendary. 
Released August 14th, For more info; 
Bandcamp
Facebook
Tracklist; 
1.Queen Jane Approximately    
2.I Contain Multitudes 
3.One of Us Must Know (Sooner or Later)
4.Simple Twist of Fate
5.Sad Eyed Lady of the Lowlands
6.The Man In Me
7.Going Going Gone
8.You're A Big Girl Now