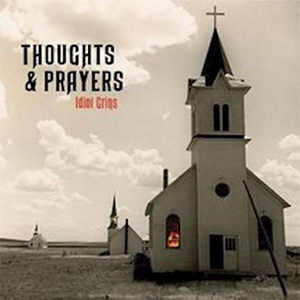 29 January 2021
A covers album is an interesting diversion for any band, but a song-by-song remake of the Louvin Brothers' classic Satan Is Real is a different matter altogether. Oakland alt-country act Idiot Grins began the project three years ago, and what began as a throw-away project in between writing and recording original material quickly grew into something far more ambitious. Although the Louvins recorded a fair share of secular music as well, little of their music is ingrained in country music legend as this concept album with its infamous cover of the brothers posed among fire and brimstone and a massive plywood statue of the devil. Thus it is all the more interesting why the cover for Thoughts & Prayers is so toned down in comparison, suggesting a respectful tribute to the power of the music itself and deference to those inimitable sibling harmonies.
That being said, singers Evan Eustis and John Hansen do a fantastic job stepping up to the plate, and although find a way to inject their own unique styles while still paying tribute to the originals, they never attempt to outdo or overperform the source material. The arrangements are also fairly faithful, only making minor modern adjustments to elements of the production that are slightly dated on songs like "He Can Be Found," but they retain the brisk gospel energy on the classic "There's a Higher Power" and the earnestness of "The Christian Life," also covered by The Byrds.
In a way, this authenticity is in keeping with Todd Rundgren's philosophy that popular music should be replicated as accurately as possible as an orchestra will do with performances of classical compositions; and although some of the Louvins' other material has aged better, what is still evident, even through these covers, is the intensity and conviction in their voices, creating an irresistible energy that persists despite the changing times.