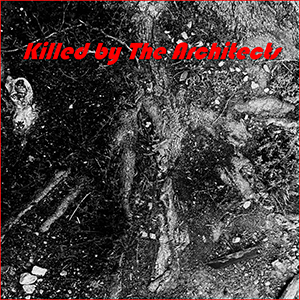 2 August 2021
Killed by The Architects is the new solo project of Chicago musician Jamie Berkes, and his self-titled album is a dark wave revelation that seems to have come from nowhere. It has been said numerous times that Interpol is merely a copycat of Joy Division, and although it is tempting to say that Killed by The Architects is doing Interpol doing Joy Division, such a statement would be reductive and simply untrue. However, it does provide an easy jumping off point. Although undoubtedly influenced by both bands, Berkes leans more toward the artier side of the post-punk spectrum, and he sometimes shows a dry witty sense of humor that Ian Curtis never revealed in his own lyrics.
Berkes freely admits that until 2019 he didn't play any instruments, and while this fact occasionally makes itself evident over the course of the album, it adds a certain raw primeval intensity to his playing that gets to the emotional core sooner. It heightens the anxiety and nervousness of the angular opening track "I'm a Ghost," and creates a spacey, droning feel on the hazy "Wherever You Go." It is difficult to pick any one track that is better than the rest, as they all sort of blend into one beautiful and melancholy dream, but personally I keep returning to the songs like "So I Can Leave" and "One More Time" which find the artist stripping back his sound to create some wonderfully depressing Goth anti-anthems.
Killed by The Architects doesn't try to reinvent indie rock or post-punk, but it will easily charm and melt the frozen hearts of even the pickiest of gatekeeping fans.