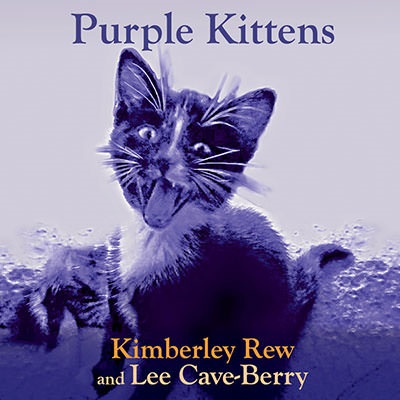 21 May 2021
There is a dynamic to this release that is anchored in positivity. Purple Kittens, the latest album from maestro Kimberley Rew and Lee Cave-Berry is an uplifting mix of atmospheric music, the artistic equivalent of an open-top Mustang on an open highway. There is muscle to the sound, but it is breezy and refreshing, and the consistency of the duo continues as the world begins to find its axis once again. Of course, the CV of Kimberley Rew is not only respectable, but inspiring. As an original member of the Soft Boys He was partially responsible for that Post-Punk masterpiece Underwater Moonlight. As a songwriter, he nailed it with Katrina And The Waves and the timeless "Walking On Sunshine". Last year, audiences were given Sunshine Walkers, a 'best of' from Kimberley and musical partner Lee, who is a tremendous musician in her own right, and the chemistry of both transcends more than the usual romantic couple. 
So, on June 18th, the path that was paved by Sunshune Walkers leads us to twelve new tracks. Songs that can inspire, at the same time entertain, and have a sound that is captivating. Purple Kittens opens with the Fender guitar jangle of "Penny The Ragman", a scene setter, raw but blissful before the song opens up fully and drives. "You Can Rely On Me" holds a rockabilly vibe, with an addictive riff and vocals that are direct but playfully sneering. The Eastern nuances that are meshed in "I Can be any Woman" are a surprising touch, with Lee giving a sultry, soulful vocal against the flowing acoustics. It is a musical stamp of how the couple are not afraid to stretch their sound in any direction. That said, "Kingdom of Love" brings the album effortlessly back into rock territory, and Kimberley's string acrobatics are front and centre. The man can stir up some tasty riffs, and remain melodic, and that itself is a talent. 

Continuing, "Wrong Song" is a bluesy cracker, with a rolling piano adding to its atmosphere. The vocals blend for the chorus, but throughout Kim swaggers, his lines delivered with defiance, and a nod to his punk beginnings. "Black Ribbon" is another slice of harmonious joy, it is rock in the Americana way, whereas "Raspberry Ripple Ice Cream" is simply gung-ho driving forward. A punchy number complete with Lee unloading a bass solo that walks respectfully. The lady takes lead vocals again in "Growing Up Song", an acoustic, reflective piece of music, and a thought provoking parental lesson to the next generation. 
There is something uniquely Californian about "Voyager", the sound or the methods that together bring up thoughts of sunshine and sand. Regardless of that, both Kim and Lee come across as youthful, fresh and evidently enjoy creating music. The closer "Daytime Night Time" ends in the same rocking landscape as
Purple Kittens
began with. Edgy, with a good time energy, and an addictive quality that subconsciously guides you to the play button once it fades out. In truth, this should not come as a surprise, both Kimberley and Lee are at the top of their game, which seems to be how they roll -with effortless perfection, and constant professionalism. 
Tracklist:
01 Penny The Ragman
02 You Can Rely on Me
03 I Can be any Woman 
04 Kingdom of Love
05 Too Much Love
06 Wrong Song
07 Unsatisfactory Cats
08 Black Ribbon
09 Raspberry Ripple Ice Cream
10 Growing up Song
11 Voyager
12 Daytime Night Time
For more info and preorder: 
Website
Facebook