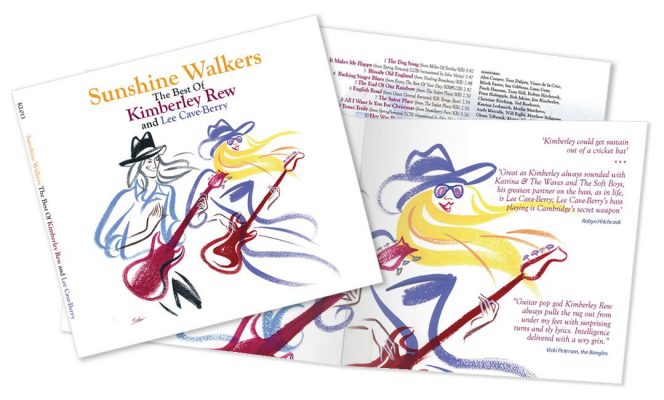 1 July 2020
Some songs from the eighties aged badly, and then there are others which are ageless. One such song is "Walking On Sunshine" by Katrina And The Waves, a song which will be forever a floor-filler. The man who wrote that song, and indeed the Eurovision '97 winner "Love Shine A Light", is Kimberley Rew. 
The guitarist and songwriter who came to prominence four decades ago as part of the indispensable Soft Boys, has remained a productive force in music. Together with collaborator, bassist and better half Lee Cave-Berry, the duo continue to make some of the best uplifting music put to record. Marking those forty-years, comes a collection, a 'best of' that showcases the talent Kimberley has for crafting a song. On July 17th comes Sunshine Walkers, a 21 track compilation with no filler and sublime killer tracks. Crossing styles of power pop, rock, blues and Americana, this collection is a salivating glimpse into Kimberley and Lee's back catalogue. And it is worth the entrance fee. 

From the first track, the melodic and chiming guitar work pulls you in. The cracker "The Dog Song" kicks off things with a grooving, honky tonk appeal. Although an ambitious song for an Englishman, his skill makes it work spectacularly well. With changes in style, the album twists into the jellied eels and pub rock of "Bloody Old England". It is upbeat and simply enjoyable. The chemistry between the husband and wife team comes through beautifully. Songs spill wrapped in warm glows of mutual affection, such as "The End Of Our Rainbow", though still looking back to the early days, and Kimberley's first solo album
The Bible Of Bop
. The tracks included here such as "Hey, War Pig", "Stomping All Over The World" and "My Baby Does Her Hairdo Long" will immediately compel the listener to check that album out. 
These older tracks mesh sweetly in with the more recent releases. Such as the 2017 mammoth
Trubute To The Troggs
album cut, the maniclly hardcore rocker "I Want You". Alongside the Wah-Wah funk party of "Flower Superpower" from
The Next Big Adventure
. A track which allows the guitarist breathe fire, as if crossing
Jimi Hendrix
and
Curtis Mayfield
respectfully. 
One of the standouts, and a delight to see included is "Restless Ocean". A melodic, brit-pop styled outing with a slick chorus, that again highlights the guitar playing and songwriting talent of Kimberley. Overall, this is a transcendent piece of work. The first step on a path of musical adventure and discovery.
Tracklist:
01 The Dog Song
02 It Makes Me Happy
03 Bloody Old England 
04 Backing Singer Blues 
05 The End Of Our Rainbow 
06 English Road 
07 The Safest Place 
08 All I Want Is You For Christmas 
09 Yours Truly 
10 Hey War Pig 
11 Some Days You Eat The Bear 
12 Purple Pyjamas 
13 Stomping All Over The World 
14 Happy Anniversary
15 Flat Cat 
16 My Baby Does Her Hairdo Long 
17 Flower Superpower 
18 I Want You 
19 Restless Ocean
20 She's Still Got It 
21 Simple Pleasures
To Pre-Order: 
Website
Twitter 
Facebook