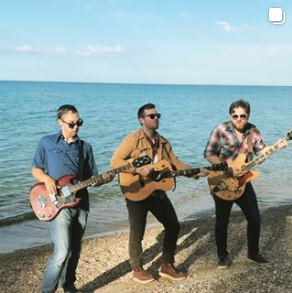 4 December 2020
There is something gently majestic about "Meet Me Where The Ocean Starts", if that isn't too much of an oxymoron. Something robust and reassuring, resonant and even romantic, something solid and relatable without resorting to shows of sonic strength and lyrical bombast. If it were a person, Midnight Canyon would be someone you could trust with your life. As a debut single this opener lays the way succinctly for this small but perfectly formed collection of songs. It doesn't hurt that you are immediately put in mind of some classic names of folk and rock, the essence and echoes of Jackson Browne, Neil Young and Bruce Springsteen, hanging heavy in the background as Midnight Canyon weave timeless strands into their own brand of cinematic Americana.


But one song does not an e.p. make. Thankfully this first outing for the band is neither front-loaded nor narrow-minded in its sonic scope and from this faultless first step they push and mix the boundaries of folk and rock, country, pop and Americana.


Current single, "On My Radio", chimes which both pop vigour and country cool, a beat driven slice of rootsy romantica, one forged from both depth and immediacy and "Don't Leave Me In The Dark" crackles with Tom Petty's early sonic grace, that fine blend of country licks and alternative vibes, punchy accessibility and deft composition.
Things are rounded off with "Piano in The Rain" a song which blends The Eagles wide-screen harmony and ability to have feet in both the cosmic country counter-culture and the mainstream, with a more dynamically changeable and progressive path. 


As a calling card the five songs that they offer here say more than the usual 12, 18, 24 …whatever… -track collection which seem to constitute albums these days. This is definitely a case of quality over quantity. But why ramble on when you can make a succinct sonic point with just a handful of great songs? Why indeed?