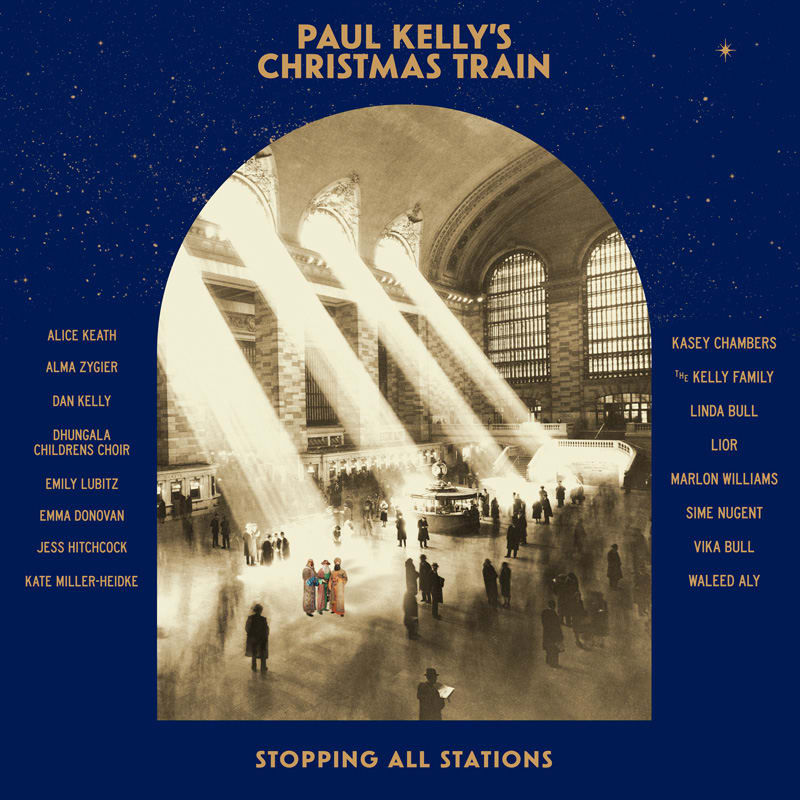 8 December 2021
So you think you know what a Christmas album sounds like? I bet you are already thinking about some sort of twee collection of seasonal ditties, all silly sing-alongs, half-baked lyrics, and forced merriment. Well, thankfully Paul Kelly has come along just in the nick of time to save, not just the day, but the whole holiday period.
Christmas Train is Paul Kelly's first such music collection and it is like little you have heard before. Not because it is radically different but because it is orders of magnitude better than anything that you have heard trying to fulfill the same function.
It starts out in fairly traditional sonic realms. "Nativity" is a story-telling narrative put to a cascade of finger-picked folk delicacy and "Silent Night" is a fairly faithful rendition of the iconic carol. But then things start to change and by the time you get to the appropriately titled "Christmas", an Australian song of longing for home by brothers Chris and Wes Harrington, you could be forgiven for thinking that this is the Beatles rocking out on a long lost Revolver outtake that somehow didn't make the final cut. Linda Bull helps out-Spector Phil Spector with the lush and infections "Christmas (Baby, Please Come Home)," a song originally recorded by Darlene Love.
And so the album progresses wandering between gorgeous renditions of traditional songs – an angelic version of "The Coventry Carol" and a neat take on" "Little Drummer Boy" (rom pom pom pom pom…sorry, couldn't help it) must get a special mention, and not forgetting a "Tapu Te Pō" a Māori language take on" O Holy Night" – and songs that fall into the more popular pop canon.
"How To Make Gravy" is a tongue-in-cheek musical recipe set to music, the title track is incendiary yet soulful rock and roll with Vika Bull turning in a vocal performance that will have Tina Turner looking over her shoulder, and "What Are You Doing New Year's Eve?" is a tribute to the soul divas and jazz chantress's of the past.
It's the Christmas album to beat all Christmas albums. It explores numerous musical styles, wanders through the world's linguistic canon, and reminds us that Christmas is a global phenomenon found in many cultures, creeds, and countries. In fact, you will never need to buy an album of Christmas music ever again…well, not until Paul Kelly releases another one at least!