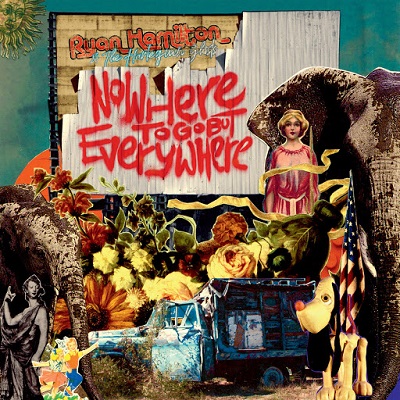 10 September 2020
Nowhere To Go But Everywhere is an album that springs to life, with a spirited collection of songs. 
This is a powerful piece of work. On September 18th, Ryan Hamilton and the Harlequin Ghosts are going to unleash a cracking album. Nowhere To Go But Everywhere is the crossroads where Power Pop, and Americana beautifully meet. It is a sound which blisters energetically across the airwaves, and something that audiences need in this world of uncertainty. Based out of Fort Worth, Texas, this is the outfits sophomore release for Wicked Cool Records, following up wonderfully This Is The Sound, and even confidently betters it. 
From the start, Nowhere To Go But Everywhere springs to life, with a spirited collection of songs. "Only A Dream" oozes with that positive vibe, and starts the album on a steady course of affectionate sound. The following "Oh No", with Kay Hanley of Letters to Cleo, gives the track an added weight of excellence. Starting with a blissful structure, the song is a homage to the artists and acts that no doubt form the basis of Ryan's, and well most musicians, influence, and record collection. A loving, melodic tribute to Born To Run, Rubber Soul, and even Oasis and Tina Turner. 

Continuing, "Jesus & John Lennon" examines the bridge between music and religion wrapped in a love song. In the mix the name dropping of
Brian Jones
follows the former track's theme. The playful, and witty "Out Of My League" provides a clear view of how Ryan and co simply are at ease. Against an organ driven background, it is uplifting rock and roll, power pop for the want of better words. With influences sparse, "Let's Go Slow" is simply beautiful. It is a collision of the best parts of
Steve Miller
and
Steve Earle
, well constructed melodies with a country edge. 
"Can I Get An Amen" has one of those choruses that lodges in your brain effortlessly. The talent for creating energetic music is coming to the fore- 
"Can I an Amen,
Get me off this carousel."
Sounding something similar to late-nineties
Fountains Of Wayne
, "Newcastle Charm" soars from the start. A tribute to those English, Geordie girls, who have obviously struck a chord on Ryan. Taking things back to the more familiar surroundings, "Southern Accents", the slow burning steel guitar centerpiece will break your heart. The emotive sound of the vocals is projected with a conviction. "Pick Yourself Up" is the cheerleading we all need right now in society. A heartfelt, motivational piece of work that is the sweet closer the collection deserves. 

I

In truth, this is a great record. One that gets better the further you go into it. Ryan Hamilton And The Harlequin Ghosts are on a journey, one which is proving to be very worthwhile. They are not reinventing the wheel, as there is no need. Instead they are presenting an album of sublime music, which is becomes more fulfilling on each listen. 
Tracklist:   
1.Only A Dream
2.Ryan Hamilton and the Harlequin Ghosts feat. Kay Hanley – Oh No    
3.Jesus & John Lennon 
4.Out Of My League
5.Let's Go Slow
6.Can I Get An Amen 
7.Don't Fall Apart
8.Newcastle Charm 
9.Southern Accents
10.We Gave It Hell
11.Pick Yourself Up
For More Info;
Bandcamp
Facebook
Website