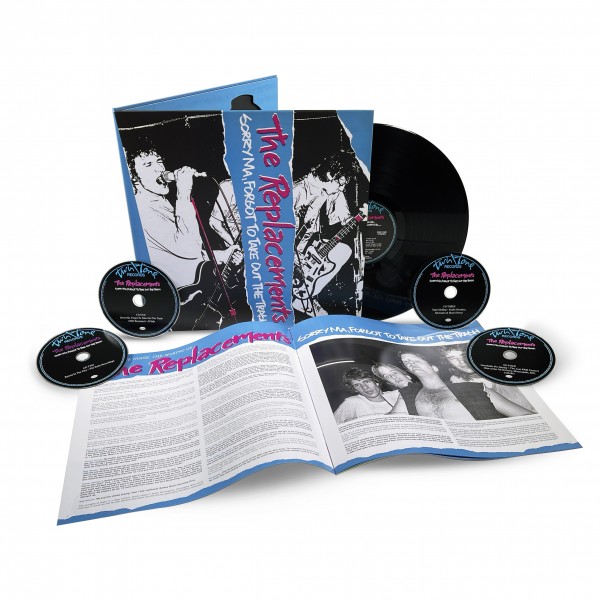 21 October 2021
I already told you about my lifelong love for The Replacements' debut album, Sorry Ma, Forgot To Take Out The Trash. Which is why I almost lost my mind when Rhino Records sent me a sneak peek at all 100 tracks included in the new 40th anniversary box set.
I pulled the files up on my phone, put my headphones on and hiked straight up a mountain (a far cry from how I enjoyed The Replacements in my teens and 20s). I listened to 41 tracks on the way up, 34 on the way down, and finished the last 25 while lying on my back in the front yard, red-faced and panting (much closer to the "good old days").
I'm here to tell you, this collection is absolutely stunning—which should come as no surprise given who was involved with putting it together. Twin/Tone Records co-founder Peter Jesperson produced the Sorry Ma box set along with Rhino's Jason Jones and Bob Mehr (author of Trouble Boys: The True Story of The Replacements). Mehr also wrote the liner notes for the 12 × 12 hardcover book that houses this collection, including new interviews with the band and plenty of photos.
A handful of these bonus tracks were included on the 2008 Sorry Ma reissue, but it's a blast to hear them in the context of the 67 previously-unreleased rough mixes, demos, outtakes and alternate takes, plus the earliest professional live recordings of The Replacements from January 23, 1981 at the 7th St Entry in Minneapolis.
The Replacements had many phases during their storied career, but this collection captures all of the Minneapolis quartet's scrappy punk charm and the undeniable early chemistry between Paul Westerberg, Bob Stinson, Tommy Stinson and Chris Mars. Sorry Ma isn't just the debut album from a band that went on to do great things, it's the origin story for our underdog heroes—and what a truly amazing story it is.
"There's something about the first expression of a band that is really special and I think that Sorry Ma, in its own way, is a kind of perfect Replacements record," Mehr told me by phone. "Everything that people would come to love about them was there in its most concentrated form. Their sound became more refined over time, but the purest album to me is Sorry Ma."
My Top 10 Bonus Tracks From The Sorry Ma Box Set (So Far…):
1. Try Me (Demo)
Of the three songs Westerberg had written before The Replacements, this is the one that really got my attention. It kicks off with all the loose, swaggering charm of a Midwestern bar band—that is, until it reaches the chorus. This is where you get the first glimpse of the heart-on-his-sleeve Westerberg, voice straining to deliver the plaintive lyrics. It's a bonus that Bob Stinson's untethered guitar god ambitions are already on full display.
2. Takin' A Ride (Live at 7th Street Entry)
Imagine for a moment that it's a cold Minneapolis night in January, 1981. You and a few friends decide to stop by the 7th Street Entry to hear some live music—and when the door opens your head is ripped clean off by this fierce live version of "Takin' A Ride." It's likely that many of the people who were there that night never gave it a second thought (beyond cursing the band for the ringing in their ears the whole next week). But for a certain kind of fan, this is an unbelievable "I wish I was there" moment—and if you were there, well, nobody likes a show off.
3. We'll Get Drunk (Outtake)
Sure, it's little on the nose lyrically speaking ("far from home, far from sober"), but it's also a great early example of the power pop/pop punk The Mats were capable of when they felt like it. Sonically, they're treading in Brit punk territory with tween-aged Tommy's bouncy bass propelling the song forward (and I'm a sucker for Mars' double-time pounding). But it's Bob's off-kilter guitar commentary on Westerberg's lyrics at around the 1:30 mark that brought the biggest smile to my face.
4. Careless (Studio Demo)
This demo is slower and generally less aggressive than the album version, giving Westerberg's lyrics more room to breathe. The track relies heavily on rootsy, chugging guitars and over-driven hi-hat to propel the song forward. It may lack some of the teen angst that drives the album version, but this studio demo gives a peek into the band's back-to-rock-'n-roll-basics approach that was the foundation for a lot of their early music.
5. Don't Ask Why (Live at 7th Street Entry)
The Replacements were famously "a great live band when they felt like it," and I think this track captures that perfectly. It's pretty faithful to the album version, but the energy's cranked up to fit the live setting. Every member of the band is holding their own here, but the gold star goes to young Tommy for his heroic bass work. Easy to understand what Peter Jesperson saw in them early on when you hear this performance.
6. Get Lost (Outtake)
Is this heavy metal? It almost sounds like a Judas Priest cover band in moments, but never long enough to commit. In any case, Mars' sporadic bell work on the ride cymbal is undeniable. Or is it a prediction of latter day pop punk? In some ways, the stoppy/starty structure seems like the template favored by bands like Blink 182. And I think we need to talk about Bob's guitar solo—which would almost be funny in a Spinal Tap sort of way, if it wasn't also totally rad.
7. Raised In The City (Studio Demo)
There's an argument to be made that the album version of "Raised In The City" is the American response to The Jam's "In The City." But this mid-tempo studio outtake eases off the gas a little to reveal a more even-handed approach, with Westerberg's early songwriting chops front and center. The Beach Boys-y lyrics—"Cruise to the lake, fun, fun, fun," "She gets rubber in all four gears"—are delivered in a semi-bored tone that adds an interesting overall texture to this version.
8. Johnny Fast (Basement Demo)
If you're a fan of The Replacements' early material, "Johnny's Gonna Die" likely holds a special place in your heart. But if you're also a fan of up tempo punk rock, you've probably wondered how the song would sound sped up. (I know I have.) This low-quality demo certainly delivers on that front, but you probably didn't realize you also needed to hear Bob playing really loud ska guitar over it—and that's where this demo knocks it straight out of the basement.
9. All Day And All Of The Night (Live at 7th Street Entry)
The Kinks and The Replacements are two of my favorite bands of all time, so this live cover was a definite highlight for me. Bob's take on this classic guitar solo is stunning, both in its faithfulness to the original during the first half and the completely unhinged shredding that follows. Westerberg's doing his best Billy Joe Armstrong prediction in the verses (Is The Replacements + The Kinks = Green Day a thing? Maybe it should be a thing. Discuss.)
10. Customer (Live at 7th Street Entry)
"Customer" is hands down my favorite Replacements song of all time, so there was no doubt some version of it would end up on this list. This live take gets off to a shaky start, but the band soon leans into the semi-hardcore tempo. Westerberg delivers the opening stream-of-consciousness love letter lyrics with all the intensity of the album version (in a charmingly crackly voice), but sounds a little like a winded Johnny Rotten by the time he has to do it again later in the song. It's all over in a couple minutes, but the audio assault gets an uproarious reception from the crowd.
•••
Okay…That's my hot take after listening to all 100 hundred songs straight through. If you're already a fan of Sorry Ma, this box set will likely bring plenty of smiles and help deepen your appreciation for the talented young Replacements. I can't wait for my Sorry Ma box set to arrive in the mail so I can go further down the rabbit hole with one of my favorite albums of all time.
Meanwhile, I'm probably due for another hundred-song hike. This box set is that good.