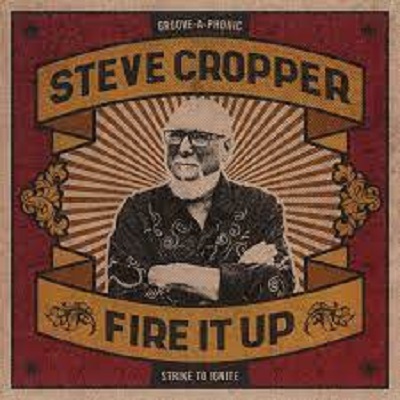 1 May 2021
A while back, Keith Richards described Steve Cropper as "Perfect man", Keith is right. Steve Cropper is the 'guitarists guitarist', the man every gun slinger turns to when in need of inspiration. You can only imagine the thoughts of many when they are lost- "what would Steve Cropper do?". Alongside the legendary Booker T & The MG's Steve helped forge the blueprint for rock music as we know it today. The injection of talent that band, as the Stax house band, lay for Otis Redding was an undeniable foundation to smoothly soar against, and that sound still holds strong today. Which is why, in 2021 as the world pulls itself back together, a release by Steve is a signal post of how music still holds magic. 
His latest, Fire It Up, displays a man who has nothing left to prove, except to entertain music fans. Yes, you may want to thrash your guitar after listening to his acrobatic finger styles, and the tones he conjures effortlessly, but what of it?, this is great stuff that is badly needed. These songs break through with an emotional momentum that cannot be ignored, and that is the importance of this music produced  and why it swells with a passionate plea. Steve Cropper knows how to make quality sounds, and he also knows how to pack it with every inch of his personality. Along this latest adventure, Steve brings the incendiary voice of Roger C. Reale (Rue Morgue) to the proceedings. He is the secret weapon here, his voice is one part Joe Cocker, one part Paul Rodgers, and a perfect foil to galvanise this album. 
From the start, Steve and crew lock in an addictive groove with "Bush Hog Part 1", an overture for the happenings that are on the horizon. Following, the blues-rockabilly of the title track is that welcome hug from an old friend, it is equally energetic and enjoyable. Though the reflective beauty of "One Good Turn" is a torchlight in the darkness of broken love. It remains emotionally fused, with the lyrics weaving a heartstring of hopefulness from loss, and with a solo that simply talks passion. With "I'm Not Havin' It" we have that blast of funk-rock, heavy on the back end with horns that move with a slick execution. 
The organ of "Out of Love" really reaches back to the sixties. With a back beat that has the foot tapping unconsciously, truthfully it is so smooth and relaxed. "Far Away" is the socially conscious statement, like a break from lovesongs into the same territory Steve thread in the early sixties. Regardless of the theme, the band takes the music in an uplifting direction, not to wallow in reality. The midway "Say You Don't Know Me" is a R&B cracker, slow burning, with a chorus that is simply sublime, heralding the 'less is more' statement. Though the closeness of "She's So Fine" to those old Stax recordings is an obvious slice of joy. The poignant "Heartbreak Street" will send shivers through the spine of the most diehard, old-school fan. A display of how music as a whole has not lost it's identity, and become monotonous. 


9

The blissful wall-of-sound that erupts from "The Go-Getter Is Gone", continues the rolling thunder respectfully. It does become obvious that throughout this album, the band rarely takes the foot off the gas, pumping forward with intention, and intensity. It's now we sail back to the opening, and continuation of "Bush Hog Part 1" with "..Part 2". This time there is more sound compacted, and searing, as Steve's guitar hits the sound of a theremin at times, creating a mind blowing experience. All together bringing Steve's adventure to a close, and that's what it is, Steve Cropper bringing fans on a journey into the heart of Memphis. It is an exceptional experience, one which should bring joy to those who yearn for new music, although be warned, you will find yourself shouting at the speakers- "Play it Steve!". 
Tracklist:
1. Bush Hog Part 1
2. Fire It Up
3. One Good Turn
4. I'm Not Havin' It
5. Out of Love
6. Far Away
7. Say You Don't Know Me
8. She's So Fine
9. Two Wrongs
10. Heartbreak Street
11. The Go-Getter Is Gone
12. Bush Hog Part 2
13. Bush Hog
For more info, and order:
Website
Facebook
Steve's Website