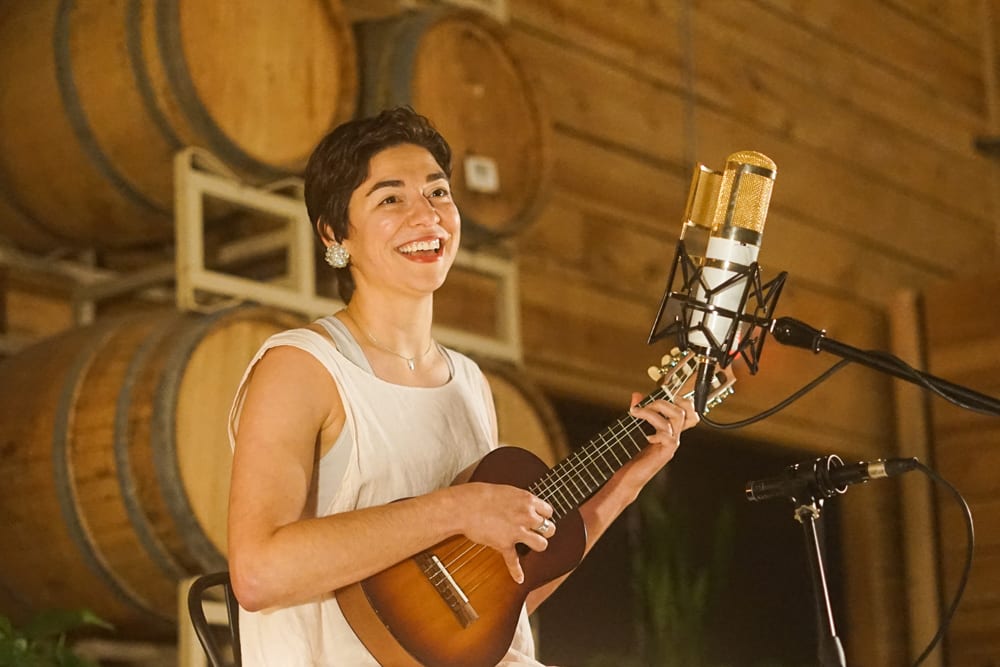 10 October 2022
Although not an EP in the usual sense, these four singles have so much in common that they might as well be considered as such. The back story is that in the summer of 2022, Teni Rane took part in a musical residency at Kneippbyn Resort Visby on the beautiful Swedish island of Gotland. She worked with Sandkvie Studios to record these four singles during this time. Also, given the release schedule, which stretches through the fall towards the holiday season, most of these are also very Holiday themed in a general sense. These factors, when put together, are enough for me to consider them a joined and cohesive, compact and bijou body of work. So just you try and stop me from reviewing them as a single entity.
"Meet Me In Stockholm" is a perfect introduction to Teni Rane, a shimmering slice of country-infused acoustic guitar and charming and chiming vocals with only the slightest additions and instrumental embellishments. The purity and the space define this track and, indeed, what Teni Rane is all about.
"Cozy Inside" is the first of the Holiday themed releases and, as such, takes more of the form of a gentle sing-along. Songs released with such seasonal resonance are often, how shall we say, obvious…fey…cheesy…perhaps even schmaltzy. "Cozy Inside" proves without a doubt that such songs can be accessible and commercial without losing their integrity and artfulness. Similarly, "Rosemary and Evergreen" is full of Christmas cheer but, like only a few seasonal songs, (present company included) could be played and enjoyed at any time of year without seeming out of place.
The final release of this quality quartet is "Tennesse Snow", a song filled with nostalgic reflections but also delivered with a gorgeous understatement, built, as it is, on minimal rhythms and drifting harmonies; a song as light as the snowflakes falling through the song, as crisp as the ground underfoot and yet as warm as the hearth that you are heading towards.
Lazy journalists could easily label Teni Rane as just another singer-songwriter or acoustic troubadour, and I guess, to some degree, she is. But it is the exquisite nature of her songs, their understated and honesty, their deftness and delicacy, their combination of musical elegance and lyrical eloquence (and vice versa) that reminds you that she is more than that. So much more.
Meet Me in Stockholm
Listen to Teni Rane