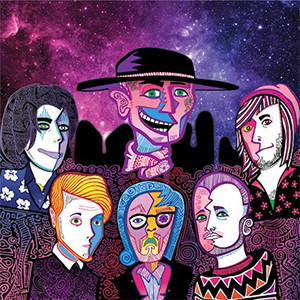 14 June 2021
With live shows finally coming back, music fans will undoubtedly desire cathartic, dancier acts that will help release a year's worth of pent up energy and New York's The Chris Rubens Band just might fit the bill perfectly. Mixing equal parts Red Hot Chili Peppers and Jamiroquai, this alt-funk group is also not afraid to flirt with anything from the blues to psychedelica. The band have been around for a few years now, but they just recently put out their debut full-length record Madness on Repeat which fantastically showcases the tight, telepathic communication between the members and their impressive musicianship.
For everything that is said above, however, all is not quite what it seems. Yes, their music is extremely upbeat and danceable, but the funk rhythms are frequently betrayed by heavy lyrics weighted by the real life trials and tribulations described in the songs. The jazzy "Cold Shoulder," for instance, has the soul of Hall & Oates but includes lyrics like "Things are hard and they're not getting better" and "Lately I feel a little bit older." Even the more purely funk tracks like "Unsure" and "Darling" are filled with underlying themes of confused emotions, insecurities, and general malaise.
Madness on Repeat just might be the perfect album for now, because as much as we want to forget the recent past, we know we cannot, and like the music of the Chris Rubens Band, every celebration after a tragedy must be qualified with an acknowledgment of the pain that is still healing.