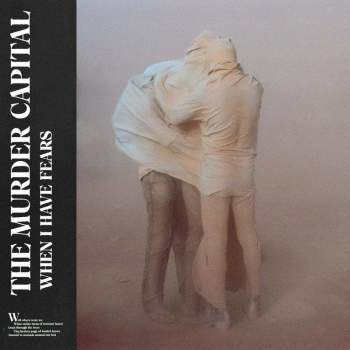 13 August 2019
The Murder Capital are one of those bands who have been tipped for the big time for some time now. Cutting their teeth as one of the most exciting live bands on the scene with their collision of new wave, punk rock, garage and shoegaze. Similar to their Irish colleagues Fontaines D.C, Girl Band and even stretching back to My Bloody Valentine, their sound is wholesome, incendiary, and at times fearlessly unique. It is true to say The Murder Capital has created a strong following if not a cult all of their own creation. 
Thankfully now they are finally set to release their debut album, When I Have Fears via Human Season Records, which is both a release that is highly anticipated, and a longtime coming. An album which does not so much live up to the hype but surpasses it with a dramatic splendor. The Irish quintet are fully formed, and blistering with a style that is already honed, with a respectable maturity when it comes to sculpting a track. 
Shattering the sonic earlobe, The Murder Capital balance majestically throughout When I Have Fears, painting a soundscape of color, before descending into negatives of darkness all hinged on our own fears, and anxieties. The ten-tracks display a thrilling ride into the unknown, twisting and turning without any indication of what is coming next. Opening with "For Everything", a roaring tour-de-force that winds into a melodic foray of sweetness as the foot comes fully off the gas. That is before it envelops once more into the sweaty punk of "More Is Less", a good time slice of rapturous noise. 
The eighties crank and beats of "Green & Black" (included below), with vocals harrowing against the sprightly guitar pattern, a track which builds as it rolls. Similar to "Feeling Fades", an execution of direct malice, post-punk injected that strips away at society.
As for surprises there is none more fruitful than the Leonard Cohen/John Cale styled "How the Streets Adore Me Now". This is a band who is more than just a noise generator, pulling heartfelt sorrow into the very personal themes of loss with "Don't Cling to Life". Similarly, the emotive "On Twisted Ground" caresses the raw senses, as does the instrumental "Slowdance II".  The Murder Capital, in reality, have hit the ground running with When I Have Fears, an album which exudes that longevity factor as it will be spoken about for years to come. 
Tracklisting:
1. For Everything
2. More Is Less
3. Green & Blue
4. Slowdance I
5. Slowdance II
6. On Twisted Ground
7. Feeling Fades
8. Don't Cling To Life
9. How The Streets Adore Me Now
10. Love, Love, Love