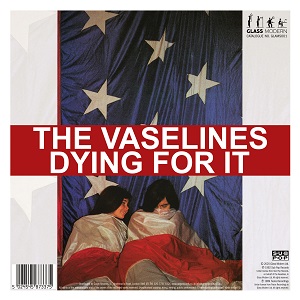 5 August 2020
This release is a double barrelled act of dynamic aggression. Legendary outfits The Vaselines, and The Pooh Sticks combine on a very special release. On August 29th, as part of the first wave of RSD releases, this double-edged sword is something special for the collectors. Both influential bands add versions of "Dying For It" to a double 'A' side, coloured single. And it is an excellent celebration of both bands. 
The Vaselines, the band Kurt Cobain worshipped relentlessly, have become a cult outfit since they recorded and released the original in 1988. That release appeared on the Ep of the same name, which also included the Nirvana covered "Jesus Don't Want Me For A Sunbeam" (MTV Unplugged), and "Molly's Lips", again covered by Nirvana along with The Fluid. That snippet of history gives further insight into the importance of Scotland's The Vaselines. Now updated with a respectful remaster, "Dying For It" detonates with the impact of the original. Opening with that instantly recognizable flourish of guitar, before lifting off. It is a modern classic. 

The Pooh Sticks, the Welsh band that were created to tear strips off the indie scene of the late 80's and early 90's. That said, they produced some fine, melodic, and addictive jangly guitar sounds. More in common with the American styled, power pop of the day than the British indie scene. Though their 1991 album,
The Great White Wonder
, was viewed as a work of adventurous genius. Voted album of the year by
Spin
magazine. Their version of "Dying For It", released a year after The Vaselines in 1989, captures the spirit of punk and anchors it with rising harmonies and sonic guitar licks. 
There is no way of determining which version is best, nor should it even be discussed. Both songs are an amazing and worthwhile listens, and signal another reason to support record stores on August 29th. 
For further info:
Website 
Facebook