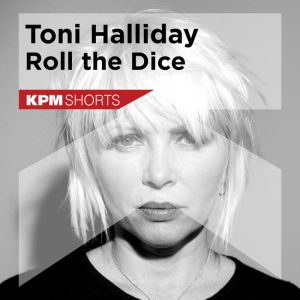 1 April 2021
The surprise resurfacing of Toni Halliday is always a welcome thing, even if the music doesn't hold a candle to her spellbinding vocals.
The British singer and songwriter made her mesmerizing mark in the '90s as one half of acclaimed guitar-, electro-, and beats-driven alternative music duo Curve (with musical mastermind Dean Garcia providing the sonics, and Alan Moulder on production duties).
A detailed Biography and Discography of Curve's work can be found in my A Guide To The Recordings Of… Curve at this site.
Detailed information about Toni Halliday's other musical collaborations during and after Curve can be found in my Whatever Happened To Toni Halliday Of Curve? at The Record Stache.
The gist of the post-Curve trajectory is this:
By the early 2000s Halliday and Garcia got fed up with the legal drama surrounding their label Universal shelving Curve's album Gift and they went the independent route, and self-released their last LP, pointedly titled Open Day at the Hate Fest, in 2001.
Curve officially split up in 2005 and Halliday disappeared from the music scene for several years. She returned in 2010 as the entity Chatelaine and released the full length Take A Line for A Walk, but then once again went silent for a time…
A few years later, Halliday was back – sporadically, as she intermittently dropped tracks that were co-written with Louise Dowd and licensed for video games, TV shows, and commercials. There's a question mark about whether some of the songs unveiled were part of what Universal had been holding onto or whether it was new output from Halliday (see The Record Stache article for details).
With no warning, Halliday dropped the track "Black Crow" on The Song System compilation this past January.
And she suddenly reappeared with no fanfare a week and a half ago in a Q&A session on EMIPM's (i.e., EMI Production Music) YouTube channel, speaking about the release of her Roll The Dice EP – which actually has a date stamp of January 12, 2020 (?!) on the company's official site, and is released via KMP Music / KMP Shorts.
And on Dowd's official website she posted a message on December 2nd, 2020 saying that the EP just dropped…
Confusing to say the least!
The songs are again written by Halliday (as Antoinette Halliday) with Dowd (as Louise Bernadette Dowd) and are part of sync deals that one would assume is a savvy financial move on Halliday's part (after being burned in the past with record label issues).
Halliday's time in Curve is regrettably a distant memory (there was some kind of strange musical alchemy between her and Garcia), but her cool-edged, alluring to menacing, richly velvety vocals have remained intact through the decades.
EMIMP labels the music as "post-industrial synth-pop noir," and one could add electronic and disco/dance descriptors as well.
The compositions and sonics are not especially attention-getting in themselves and some of the more dance-oriented tunes have a generic commercial sheen to them. It's Halliday's vox/delivery and introspective and perceptive lyrics that are the main draws and warrant a deeper listen.
Halliday has indeed rolled the dice by walking a fine line between art and commerce, but at least she's turned the tables on the industry and is making the music business side work for her.
The title track leans towards the electronic/dance mainstream with its non-stop one-note disco blast dirtied up with gritty guitars and Halliday's always welcome dispassionately drawn out vocals.
Highlight "White Sheet" is a mournful lament where Halliday's vulnerable emotions shine through as she bittersweetly sighs, "What have I become? / I've lost my essence." amid delicate piano notes and slowly flickering synths. The number builds up with pulsating synths, echoed drum strikes, and wandering harmonies.
Motorik and electro dancefloor thumper "How We Got Here" darkly beguiles because of Halliday's duskily floating and questioning vocals. "Achilles Heel" is another disco-style swirl that seduces due to Halliday's sinuously winding vox.
Burgeoning grinder "Fragile Seam" adds industrial notes with its simmering embers sound, and again is lifted up by Halliday's hazily downcast vocals.
A techno beat pushes sonically non-involving "Last Resort" along amid crisply smacked and shaken percussion, with a mellowed out Halliday vocally arching into an airy register on the chorus sections.
EMIPM Website
APM Music/KPM Shorts Website