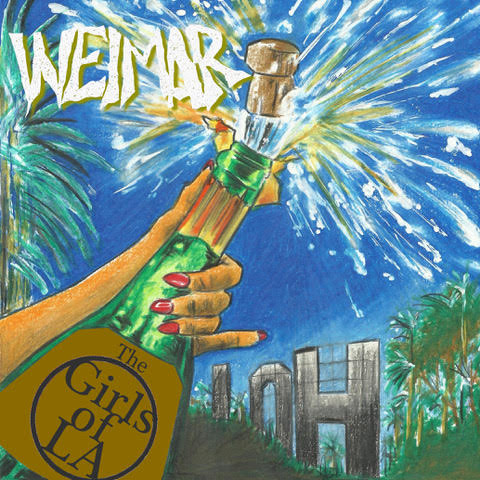 8 April 2022
With a name like Weimar, a track titled "The Girls of L.A." and the release going through German Shepherd Records, you might be forgiven for thinking that this track is the product of a bunch of German ex-pats living in California. The truth is that they are actually from Manchester, England, a city in itself responsible for no small contribution to the alternative music canon.
And, alternative is the right word and the sound seems to come from the same place as the likes Violent Femmes, The Fall, The B-52s, Wall of Voodoo and even their hometown's very own Magazine. It is quirky, angular, post-punk, agitated and …well, awesome, especially if you have a hankering for a side order of alternative artifice, artistry and Avant Garde with your pop-rock.
The lyrics are as cool as they are unexpected, an ode to the bottle service girls, who work L.A.'s clubs and bars, using the tips that are offered up by punters to finance their wider career aspirations in Hollywood. It is a celebration of their business prestige in its most everyday form and a positive reflection on the reality of the American Dream and all that it offers. An optimistic and life-affirming musical oddity in the midst of the band's mostly dark repertoire.
But when you realise the pedigree of those behind the band, its richness and strange ways (geographical pun intended) come as no surprise and their CV is littered with a list of the great and the good such as The Speed Of Sound, The Bacillus, Black Light Mutants, The Deceased, Frank Is Dead and Playground.
Cool and quirky…the perfect combination!
Single order
Spotify
Album order