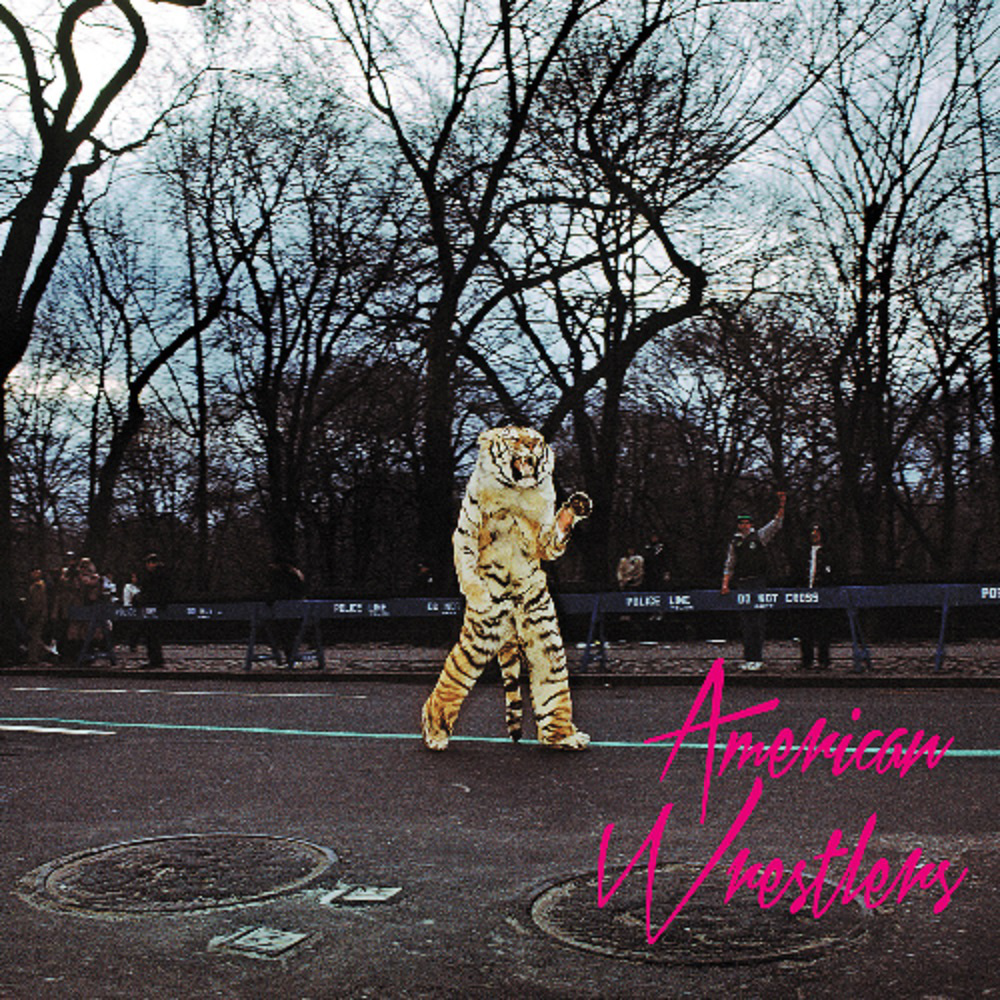 6 April 2015
Okay, I'm finally going to do it. I'm going to try and name my very own genre. Usually, naming things isn't really my forte. I'd much rather let someone else do the work (and take the flak). Nevertheless, I need a name for a batch of new music that has been dominating my playlists for the last three years or so. Let's call it 'Lazycore'. You should know the stuff. These are the songs that just barely get your head nodding, with easy (and catchy) beats and off-hand lyrical delivery that floats over the ear as if it was in a different language. Wait, here's a better description. Take Pink Floyd's "San Tropez" and imagine T. Rex playing it; glamorously lackadaisical. The Lazycore grouping includes some of my very favorite albums in recent memory. I'm talking about artists like Kurt Vile, Destroyer, Big Weather, The War on Drugs, Free Weed, Spectrals, Rathborne, and now American Wrestlers, with its self-titled debut out on Fat Possum this week.
Now based in St. Louis, Missouri, Scot Gary McClure's path to American Wrestlers is the kind of music story you can only tell in the Internet Age. Born and raised in Glasgow, he found his way to Manchester, UK, where he recorded some demos under a different name and posted the songs online. It was then, and as a result of his songs, that his now-wife first got in touch. After becoming enraptured with one another, he moved across the Atlantic to get married. The move to Missouri saw American Wrestlers take form, recording in a tiny, remote house, on a Tascam 8-track and the cheapest pawnshop instruments he could afford. McClure described the writing/recording process in a recent Stereogum interview:
"It's more a case of I'm watching TV and playing guitar and it's like, oh, there's another song. That kind of shit. But I had an 8-track and last year I wrote a bunch of songs and when they were finished, I thought, What if I just try it this time with no record labels? Nothing. All pure. I'll just do it on my own. I'll have a day job, and for the rest of my life I'll just work things out and I'll send them out into the internet, maybe some blogs, and some people will hear them, maybe. I gathered 200 blogger email addresses and I spammed all these guys like, Hey look, I made this stuff on an 8-track. The next day, this guy from a website wrote back and said he totally loved it. I was like, wow, shit! There's someone actually really into it. Then the next day, there was two more, and the next day there was more after that. It was getting really silly, and then I was starting to get a bit scared from the response. Then the next week, I think it was like eight record labels emailed me." -Gary McClure
I'll be honest, I've never understood lo-fi. It just doesn't make a lot of sense to me to purposely record at a low quality when technology has been high quality recording possible with an iPhone and a decent microphone. To me, lo-fi is the equivalent of the resurgence of the cassette tape. Nevertheless, it actually works for American Wrestlers. McClure's songwriting has a very easy feel that combines with the hazy recording to enhance the aforementioned lazy bop.
What helps the music power through even the worst 8-track recording technology is the power of the arrangements within each song. It is amazing how much McClure accomplishes with so little. The instrumentation has an incredibly detailed layering that sounds meticulously orchestrated; almost hitting like waves slightly out of sync. All the while, the entire record is full of fantastic melodic lead guitar playing. Throughout, you'll hear elements of jangle, dream, and chamber pop alongside flourishes of psychedelic folk and all washed over with a lo-fi sheen that makes you think you've never heard anything like it before.
I have a sneaking suspicion that American Wrestlers is one of those albums you are going to see on more than a few end-of-the-year lists. Like recent releases from Kurt Vile and The War On Drugs, this record doesn't force itself on the listener but subtly works its way up your rotation with repeated listens. At the best moments of this self-titled debut, the Vile reference becomes more important. Like the electric guitar 'rockers' from Vile's Wakin' On A Pretty Daze, McClure's "There's No Crying Over Me Either", "Holy" and "Kelly" have an undeniable earworm quality that grows with each listen. As the light grooves work their way into the subconscious, you'll find yourself singing along to each track without even realizing it (or understanding the lyrics). I already find myself reaching for this one almost subconsciously. Let's just hope I won't have anything to do for the rest of the day.