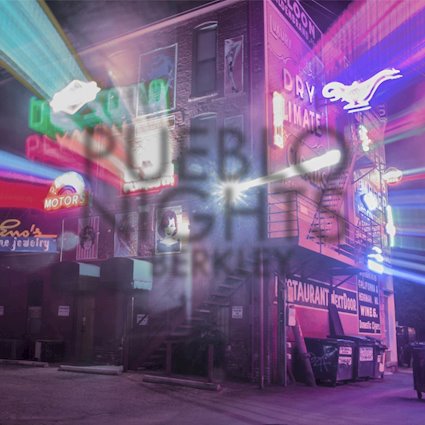 24 July 2023
Sitting between the pastoral poise of rural English folk music and the warm, west coast take on country music, between a slightly hippy haze and a gentle psychedelic trip, was the sound of Laurel Canyon. As the sixties acoustic boom evolved into a more band-driven scene, this short-lived, perhaps a decade at most, genre produced more than its fair share of icons, from Joni Mitchel to The Eagles, from Gram Parsons to CSNY. But if the scene came and went, as singer-songwriters turned into cocaine cowboys, coffee shop folkies emerged as mega-stars, the sound lingered, echoing and haunting music, remaining just within earshot from then until now.
And "Pueblo Nights", the first taster of Berkley's soon-to-follow debut album, Pueblo, gorgeously resurrects that evocative sound, giving it a modern twist along the way. And, if this song looks to the past, it addresses the artist's own formative days in Pueblo, Colorado, turning to thoughts of youth, of returning home, spiritually or physically, of reflections on hopes, dreams, ambitions, of memories, of small towns and the people who live there, perhaps those you left behind and those who helped make you what you are today, for better or worse.
Melodic, accessible yet dreamy and reflective, both chiming and utterly charming, it will appeal to fans of everyone from classic era Fleetwood Mac to Phoebe Bridger to Ben Folds and any number of the aforementioned Laurel Canyon icons, plus, it will definitely capture enough new hearts to build a whole new following around such a sound.
Bandcamp
Spotify
Soundcloud
Pueblo album pre-order
Album on Bandcamp