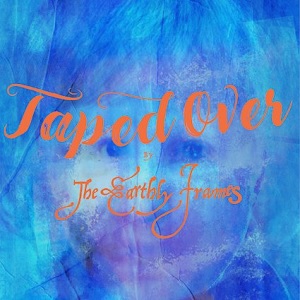 6 April 2023
Taped Over is the latest album from the prolific The Earthly Frames, the project of Maryland musician Gabriel Walsh, and the new installment in a ten-year project where each release corresponds to one color of the rainbow, along with black and white. As you can tell by the artwork, Taped Over is Walsh's blue album, and it's a very left-of-the-dial take on indie folk, combining the melancholy of Neil Young's Comes a Time with the off-kilter eccentricities of Harry Nilsson. Reminiscent of an ethos, if not necessarily the style, of a band like The Pastels, there is a keen sense of pop melodicism hiding underneath the occasionally raw, slightly shambolic production.
The opening track "My Worst Self" perfectly sets up the mood of the album, with a clear preference for energy and emotion over tightness or technical perfection; a lesson likely learned from Neil Young. Yet it's a deceptively catchy song with a wonderful sense of melancholy. A number of tracks like "Stay Strangers" and "Irish Goodbye" follow in the footsteps of its understated mood, and there are also a handful of fantastic dirges thrown in for good measure like "Dying, Yet Gaming" and "Pixels." The real star of this album, however, is the perfect combination of Walsh's sophisticated lyrics and ragged, heartfelt vocals which are both entirely unique in the current music climate.
Shifting away from the electronic or ambient sounds of previous releases, The Earthly Frames have found a real home with folk, and although it's unlikely they'll linger here for long, one can only hope it's a sound they return to in the future.