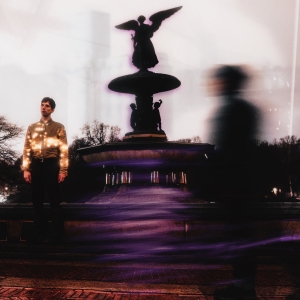 10 September 2023
Sometimes you must wait to be rewarded. Brothers Tim and Cory Race took their time writing and recording this wonderful new record, "Vital Return". In part, they had no choice, as Covid and other factors bedeviled their attempts to get the album done sooner. Many of these hurdles are discussed in my review of the excellent single, "Sleep Paralysis" released in November 2022.
The strength of the new album, released August 18th, lies in its very creation amidst so much turmoil. Produced by Jonathan Schenke (Parquet Courts, Liars, The Drums), "Vital Return" musically captures what the band says is "channeling their love for R.E.M., New Order, Yo La Tengo, and C86 in addition to the twilight of classic post-punk acts like The Cure and Echo & the Bunnymen." Autobiographical lyrical themes document Tim's fight for sobriety, moving through the loss of the brothers' father, coping with collective and generational trauma, and reflections on how to make it through. As he optimistically shares, "we did make it though. Ultimately the record is about that: reemergence, about coming out the other side."
"Vital Return" begins with one of the album's strongest tracks, "A Seat at the Table". Penned by Tim, Cory, and co-founder/bassist Wallace May, the song was released as a single earlier this year and also reviewed here. It captures a particularly dark moment in our country's recent history. Tim notes "I wrote the lyrics on January 6, 2021. I was at home wracked with Covid, and so I watched the events of that day alternating between the screen and the steamed towel I needed to help me breathe."
"Sleep Paralysis" follows. As one of the first songs the band wrote after Cory and Tim's dad passed away, it was written between tours of first LP, "At Middle Distance". Tim's own sleep paralysis episodes are the subject, but the song addresses one that occurred the night their dad passed away. The song is very R.E.M. -ish but still in Big Bliss' wheelhouse. Ana Becker, who plays second guitar in the band, gets a writing credit here and across five songs on the album.
The band generally sticks to an up-tempo songwriting formula and the new LP is sequenced with singles to date (also including "Tether") on side A. But it's so nice to hear lovely slower tracks including "Proof of Life" make their presence known. Sparse, breathy keyboards are featured here. As Tim says "the thing I like most about this song is that the final version on the record consists mostly of elements laid down in the original demo, including the vocal take. It's a classic dynamic in the record-making process: sometimes beating the original sketch is impossible; often the demo contains the bare emotional intent of the song, imperfections and all."
A catchy beat carries "Solace", another gem of a song. Lush rhythm guitars in the left channel sit like a plush carpet underfoot. Chiming guitars overlay in the right channel as the song builds. Sweet harmonies add some lightness to the track, but dissonant notes sweep in about halfway through creating a seasick, off-kilter dis-ease. Tim says "'Solace' was one of the later tunes we wrote for the record. Like 'Tether', I'm trying to reach someone that may be unreachable. In this case I'm hoping to understand and somehow soothe particularly intense anxiety and paranoia. It's frightening to see someone you love on the brink, and it's especially confusing when extreme, not-always-lucid paranoia is the central driving force of their pain."
Tracks six and seven ("Tell Me When You're Ready" and "Off Guard") are the most frantic on the album. Fast-paced, neurotic notes are met with Tim's natural vibrato vocals that seem even more stretched than normal. As Tim reflects about his own drug addiction, "I've wondered what else I missed because I was too afraid to be honest and to face myself. My example is addiction, but ultimately TMWYR is about the experience of confronting fear and letting a desperate search for 'what's missing' end."
Tim explains "the character in 'Off Guard' is a bit of an asshole. He's an amalgamation of several of the worst traits we saw amplified when Covid first hit and safety measures followed: selfishness, rage, lack of empathy, self-righteousness, the list goes on. The character is a conspiracy theorist in part, but mostly he's just cruel. Eventually, the threat catches up to him; he may be defiant, but he's as vulnerable as anyone else." Tim packs the lyrics in and the poetry flows along with Cory's incessant beat.
Filled with gorgeous passages featuring slashing guitars and punchy drum arrangements, "Sediment" is a deeply powerful song about Tim and Cory's dad. Tim says "several of the tunes on the record are about him, but this one presents a specific part of his experience I only came to fully understand after he passed. He fought for the Marines in Vietnam, and though he survived the duration of the war, eventually he developed cancer from exposure to Agent Orange. He may have survived the fighting, but the war did kill him in the end, and he suffered from PTSD for decades after."
"Vessel" captures a slightly softer side of Big Bliss, allowing a welcome breather. A stirring verse section grows to a gorgeous chorus. The ebb and flow of the track allows it to sit nicely toward the end of the record. Tim once again is conveying deeply personal, though relatable, lyrics, and no doubt the song itself is a therapy for him and others. "The resulting recording feels almost haunted to me, which is fitting for a tune about depression and loss/confusion of identity. For me, the most important lyric is 'I'm terrified to be who I am.' My experience with depression and inner collapse isn't necessarily one of deep sadness, but instead one of emptiness and a hopeless blurring of one's notion of self. The song is a clear reminder of where I was, and suits the position just before the title track, 'Vital Return', which is a nod to where I hoped I was going."
And what a closer "Vital Return" is. With Tim repeating these two words frequently, the track is a meditative salve for him and the listener who ardently pushes through the album in one go. Tim knew instantly that this song would come to be the centerpiece for the album and its closer. "When we write, I'm usually singing gibberish just to get a sense of the syllables and the melody, then I go back and write lyrics within those parameters. Sometimes the ad-libs yield a keepable phrase, and in this case, it was the 'vital return' refrain. Something about the phrase spoke to so much I was hoping for: healing from depression, grief, addiction, living the full dynamics of life, and a musical thrust towards the light for Big Bliss."
With the album completed, Tim reflects, "we're proud of this one. It's a document to an intense set of years for us and serves as a declaration that, despite the bruises, we made it through clear-eyed and ready to move forward."
Links