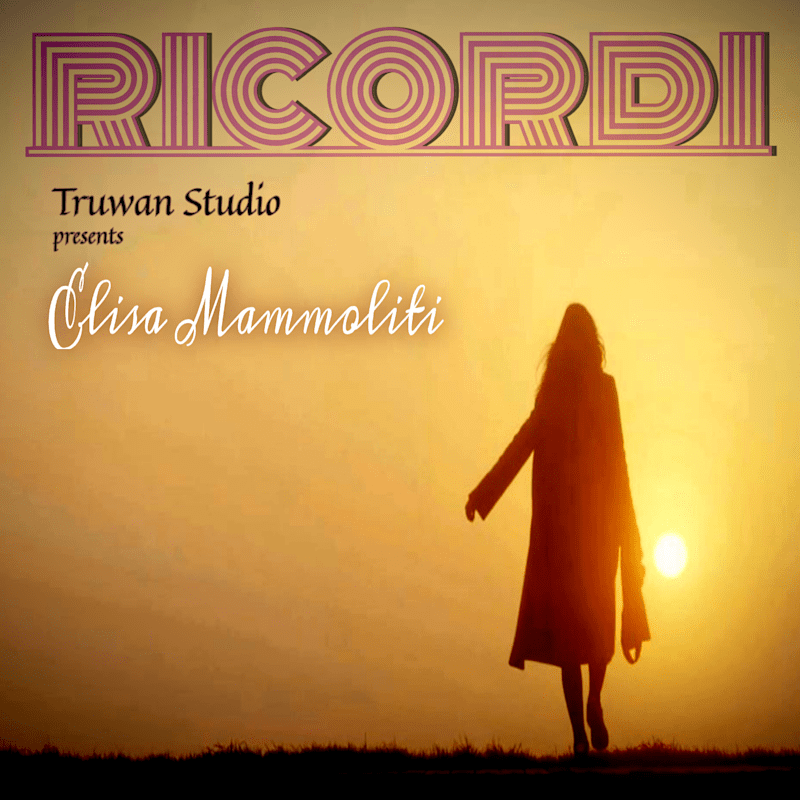 25 July 2023
This isn't the first time we have heard the dulcet and delicious tones of Elisa Mammoliti on a track that has come out of the Truwan Studio. But this time, the difference is that she is definitely front and center whereas before, she was often found sharing the limelight. Yes, this is her moment, and what a beautiful moment it is too.
As a singer and actress who has worked in musical theatre, opera, and multi-media performances, Elisa brings a certain grace and control to this contemporary rock sound, which is definitely where "Ricordi" sits on the generic spectrum. And it is this balance of rock weight coupled with the blends of grace and grandeur that are the hallmarks of the world of musical theatre that make this song stand out beyond its contemporaries.
Having a cool, calm, and captivating vocal is, of course, only half of the story, and as fantastic as the voice and lyrics are, and they most certainly are, it is also the deft and delicate music that acts as her platform that completes the package. It would be all too easy to throw too much into the mix, too tempting to over-egg the musical cake, but here, under the watchful ear of Clay Joule, there is a weave of less-is-more musicianship supporting her.
Spacious drums that are happy to serve the song, bass lines that deftly pulse and punctuate, and cascades of rhythmic guitars add a musical mesh to keep everything tethered and together. And even Alex Gusinsky, as the electric guitar soloist, is happy to add musical moments and motifs, understated phrases and chiming, and indeed charming, interludes that do just enough, rather than upset the balance by over-playing or distracting. The hallmark of a great player is that they don't have to keep reminding us how good they are.
But of course, at the heart of it is Elisa's voice. Perfectly controlled and wonderfully expressive, she gives us the perfect delivery for a song about memories. And not just memories but those bitter-sweet reflections on a love that didn't last, a relationship that ended, perhaps too soon. Both the narrator and the subject of her past affections have moved on and found new lives, but the song suggests, without directly saying as much, that at least one of them still wonders about what might have been.
Lyrically the song takes in reflection and happiness, a sense of nostalgia, and a slight air of melancholy for something that never was. And Elisa's voice captures all of those conflicting moods and feelings perfectly.
It is a masterful creation, of the type that we are gradually getting used to from Clay Joule and his Truwan Studio team. Their ability to take all of rock's bravado and excess and refashion it into something this graceful, to turn its energy into gentle anthemics, its muscle into serene melody, its bombast into beatific beauty, is breathtaking. Somehow they manage to harness all that power and fashion it into poise and poignancy, which is a rare skill. A very rare skill, indeed.
Ricordi is a rock song with a classical heart, the instruments being used to create it might be very much from the contemporary rock and roll world, but the way they are used is more like the way that a symphonic, classical, or orchestral ensemble would work together especially if their aim was to create something spacious yet ornate, full of rich tones and lush textures, where the groove was replaced by ambient grace and drive by delicacy.
Another fantastic creation from the Truwan Studio team, but as recent releases have unambiguously shown, for them, this is probably just another day at the office. Effortless, it might seem for them, but extraordinary it always is for the listener.