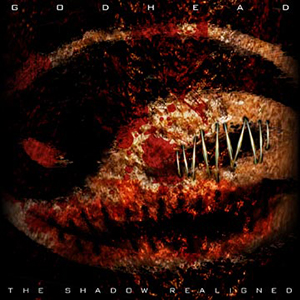 22 March 2014
It's a sure sign that a group has gained enough of a cult following when they release a remix album, and Godhead have done just that. Founded by Jason Miller, the electronic/Industrial band has been around since the mid-90s, touring with everyone from Marilyn Manson and Black Sabbath to GWAR. The Shadow Realigned is mostly a collection of 14 songs remixed by 14 different producers.
Unfortunately, some of the songs here suffer from the pitfalls of many remix albums: the question whether it's really necessary at all to mess with a good thing. Some of these songs are tampered with in a superfluous manner, but many, if not most, of them shed new light on many of these songs. The best of these, Shok's Other Way's remix of "Another Day" is remarkable, and it is scary how similar Miller's vocals sound to Martin Gore's from Depeche Mode. The song itself is reminiscent of the band's sparse ballads, and many of these songs are highly influence by Depeche, if not much more industrial.
Attached to the end of this album is three previously unreleased songs, and one of them is a cover of what else than Depeche Mode's "Never Let Me Down Again". Overall, this is an excellent collection of people celebrating the long career of a band getting the respect it has long since deserved. The Shadow Realigned will be released April, 29th.