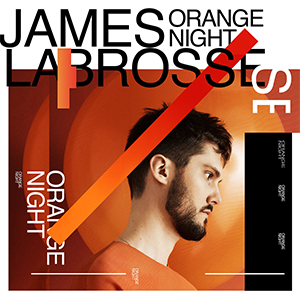 6 June 2018
A New York artist who once moved to Spain to learn the secrets of Flamenco, James Labrosse is committed to the authenticity of his music. On his new record, Orange Night, this learned ethos is augmented with an emotional appeal that communicates a true love for world music. The album is equal parts R&B and 80's synths underneath both of which is a framework of breezy jazz evocative of carefree French coffee culture. Whether intentionally or accidentally, these elements combine and create something sounding close to a more modern version of Sophistipop; reminiscent of Sade, or Everything But The Girl.
Labrosse himself doesn't sing vocals on any of the songs—rather he employs he a string of fantastic guest vocalists. It gives the album more of a feeling of a communal project where the focus is less on any one individual than the quality of the finished product. It's a gamble that pays off handsomely from the *Style Council*-esque "I've Changed" to the trance-like rave hybrid of "Find A Way." Even the instrumental tracks like the ambient, psychedelic cacophony of "Post_Nostalgia" fit in perfectly with the spirit of experimentation prevalent throughout.
By looking back through the history of world and pop music, James Labrosse ends up creating something with Orange Night that is both fresh and exciting.